Sun 12:00 PM
Partly cloudy
Sun 1:00 PM
Partly cloudy
Sun 2:00 PM
Partly cloudy
Sun 10:00 PM
Mostly clear
Sun 11:00 PM
Mostly clear
Mon 12:00 AM
Mostly clear
Mon 1:00 AM
Partly cloudy
Mon 2:00 AM
Partly cloudy
Mon 3:00 AM
Partly cloudy
Mon 4:00 AM
Partly cloudy
Mon 5:00 AM
Partly cloudy
Mon 6:00 AM
Partly cloudy
Mon 7:00 AM
Partly cloudy
Mon 8:00 AM
Partly cloudy
Mon 9:00 AM
Partly cloudy
Mon 10:00 AM
Partly cloudy
Mon 11:00 AM
Partly cloudy
Mon 12:00 PM
Partly cloudy
Mon 1:00 PM
Partly cloudy
Mon 2:00 PM
Partly cloudy
Mon 3:00 PM
Partly cloudy
Mon 7:00 PM
Partly cloudy
Mon 8:00 PM
Partly cloudy
Mon 9:00 PM
Partly cloudy
Mon 10:00 PM
Mostly cloudy
Mon 11:00 PM
Mostly cloudy
Tue 12:00 AM
Mostly cloudy
Tue 10:00 AM
Rain showers
Tue 11:00 AM
Rain showers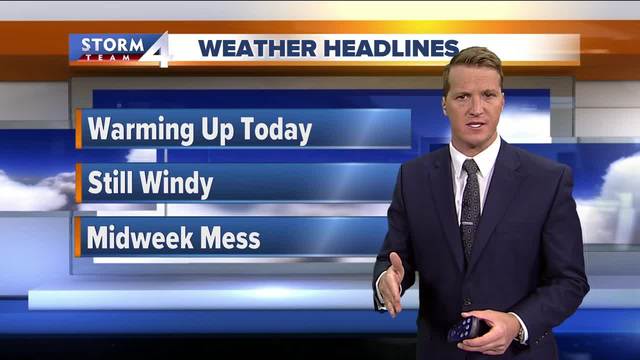 After a couple morning flurries, the skies will clear out today and we'll start to warm back up. A strong southwest wind should help bump our temperatures back up into the lower 40s by this afternoon. Skies this afternoon become partly cloudy to mostly sunny. Tonight the forecast calls for partly cloudy skies and lows in the 20s.
Monday will shape up to be another warm and sunny February day. We may even come close to 50 again by Monday afternoon. The next storm system will be brewing by Monday night.
A good chance for rain showers arrives on Tuesday, followed by a potential wintry mix to snow on Wednesday.
If a strong area of low pressure develops to our southeast on Wednesday, it would likely draw in enough cold air to give us a chance for accumulating snow. Wednesday is definitely the day the watch this week. Until then enjoy the warming temperatures.
Read full story