Maybe some sort of Lambeau Leap if Swiss downhiller Michelle Gisin wins the race Wednesday? Hey, don't rule it out.

She is, after all, a big fan of the Green Bay Packers. More specifically, quarterback Aaron Rodgers. She will even wear his jersey on game days.

"I just love the combination of him, his experience and him being an amazing quarterback," said the 24-year-old Gisin. "Jordy Nelson, too, and the young receivers. I love this team."
While Gisin was getting a feel for the downhill course Monday during a training session at Jeongson Alpine Center, back in the U.S. Rodgers showed up in Florida to support girlfriend Danica Patrick during her final NASCAR race at the Daytona 500.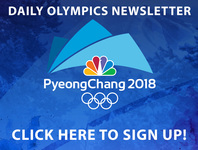 Gisin's sister, Dominique, had a big influence on her love of American football. Dominique, who tied for a gold medal in the downhill at the 2014 Sochi Games, is a big fan of Drew Brees and the New Orleans Saints.
Newsletter:
"She was crazy when there's football on," said Michelle Gisin, whose boyfriend is Italian ski racer Luca de Aliprandini. "Then I started watching with her and she explained it and I really got into it."

Gisin doesn't catch every Packers game, given her hectic schedule and the fact it's sometimes hard to find the Packers on TV while traveling all over Europe.

"I missed (a few games), because I am so busy. Because of all these races," she said. "It's really tough."