Meet and Greet Some Incredible Animals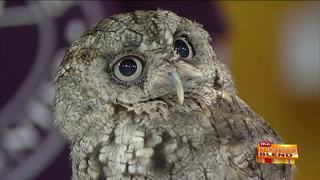 The Mission of the Wildlife in Need Center is to rehabilitate Wisconsin wildlife with the intent to release them back into their native habitat, conduct research designed to further the positive impact of rehabilitation, and provide quality community education programs and services. Some of that community education happens at their special Meet & Greet events, and there's one coming up next week! Joining us to discuss how you can get up close and personal with their wildlife ambassadors are Mandy Feavel and Maddi Williams from the Wildlife in Need Center, along with Chloe the Eastern Screech Owl.
The Wildlife in Need Center's Summer Meet & Greet is happening Wednesday, August 15 from 6pm to 8pm. You can find the Wildlife in Need Center on S Waterville Road in Oconomowoc. For more information, call (262) 965-3090 and visit HelpingWildlife.org.