MILWAUKEE - There are plenty of hidden gems in our city that'll spice up your dining and night life. These rooftop bars and restaurants will surely keep things fresh as you venture out during the warmer months. Take a look at our list:
The Outsider, 310 East Chicago St, Milwaukee
This rooftop bar at the Kimpton Hotel is in the historic Third Ward and is set 9 stories above the ground, providing a social experience unlike any other. Stop in for craft cocktails, good food, and an unforgettable ambiance.
Cafe Benelux, 346 N Broadway, Milwaukee
This restaurantcelebrates cultures in the Benelux region of Europe featuring a from-scratch menu, an award-winning beer menu, and a unique rooftop patio.
Ugly's Pub, 1125 N Old World 3rd St, Milwaukee
Located on Old World 3rd St., this bar and restaurant is the epitome of Milwaukee nightlife. Multiple stories of dance floor lead up to a rooftop patio.
BLU Bar and Lounge, 424 E Wisconsin Ave, Milwaukee
With a gorgeous panoramic view of the city and Lake Michigan, craft cocktails, and food, BLUis the place to be. The bar and lounge is located at the top of the Pfister Hotel.
Zen on Seven, 411 E Mason St, Milwaukee
This lounge is located on the 7th floor of the Hotel Metro. The views on the rooftop patio will take your breath away.
Summer Camp, 2107 E Capitol Dr, Shorewood
On Tuesdays through Thursdays from 6:00 p.m. until 10:00 p.m., the rooftop of the Atriumbecomes a cocktail bar. This Shorewood spot is a hidden gem.
Red Lion Pub, 1850 N Water St, Milwaukee
The downtown Milwaukee-British style puboffers a unique over-the-pond experience. Play, drink, and be merry on the rooftop patio located on N. Water St.
The View at Evolution, 1023 N Old World 3rd St, Milwaukee
This space is home to parties, weddings, and other events. The View is located above the Brass Alley on Old World 3rd St. and has both an enclosed rooftop space and an open air space.
Braise Restaurant & Culinary School, 1101 S 2nd St, Milwaukee
Braiseserves locally grown and farm-fresh food. Guests can dine on their rooftop patio located on S. 2nd St.
Brothers Bar & Grill, 1213 N Water St, Milwaukee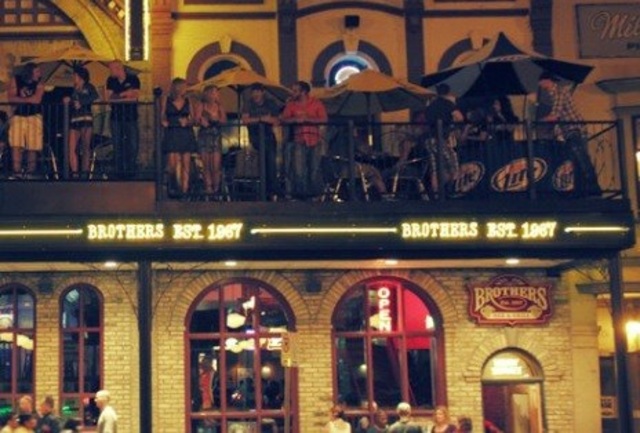 This bar and grill on N. Water St. has multiple levels of fun, including an enclosed rooftop bar and an outdoor rooftop patio.
Good City Brewing, 2108 N Farewell Ave, Milwaukee
This brewery and urban taproom located on Milwaukee's East Side has great food, drinks, and a great rooftop to match.