WISCONSIN — More school-aged children are testing positive for COVID-19, according to state and local health professionals.
Newly released data from the Milwaukee County COVID-19 Epidemiology Intel Team shows between March 1 and August 4, and out of 16,792 tests in kids ages 5 to 17, 11 percent were positive for COVID-19.
Across Wisconsin, there has been a recent rise in the 10-19 age group since early July.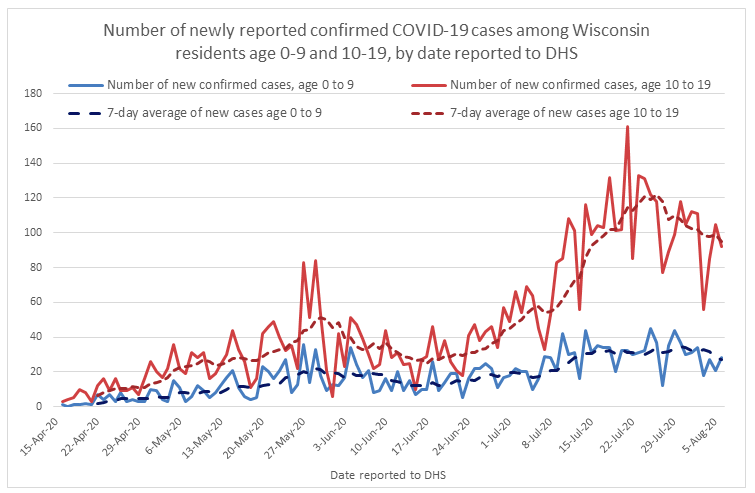 In kids younger than 18, Dr. Ben Weston with the Office of Emergency Management says for every 100 cases, one or two are hospitalized.
"It's not an insignificant number and it's something to be aware of the school season approaches," said Dr. Weston.
Some parents tell TMJ4 News they are remaining vigilant.
"The last thing I wanna do is be negligent and be responsible for someone getting sick and dying," said Christopher Rick, a father of a 6-year-old girl.
"We've been quarantining as much as possible. When we're out and about we wear masks. We really only go outside we don't go to too many places indoors," said Maria Scharf, a mother to a 4-year-old boy.
"We're opening up a little bit more kids and families are going out. We're seeing a little bit more of our kids being exposed, whether it's through sporting events, whether it's going to camps around," said Dr. Patricia Golden, Primary Medical Director for Ascension in the Milwaukee Southeast Region.
Concern over COVID-19 in children on the rise
Dr. Golden says children tend to recover, but they still pose a risk to others.
"It's when they are potentially around our higher-risk populations or what we call our most vulnerable populations. That's where I get very concerned about the numbers increasing," said Dr. Golden.
She urges that we need to learn how to live with COVID-19 safely and it starts by setting examples like wearing face masks, social distancing, and practicing good hand hygiene.
"I know there's so much excitement about getting together and spending time with others. But we've got to do it safely. Our goal is to get our kids back into school. We don't want to see our academics struggle in our children. And so if we really prioritize our future generations and their education, doing all of these things will help slow the spread of coronavirus and allow all of us to safely get back with as normal life as we possibly can," said Dr. Golden.