PYEONGCHANG, South Korea (AP) — The United States will play for a gold medal in women's hockey for the third straight Olympics.
Four-time defending champion Canada will be waiting for them.
The Americans had a 5-0 victory over Finland in the semifinals, a score that Canada matched against the Russians later Monday to set up the gold medal showdown between the two premier women's hockey powers.
In the two-man bobsled, the Canadians had to share a gold medal with Germany in a rare dead heat. The two other golds awarded on Day 10 at the Pyeongchang Games went to Norway, which won the men's large hill team ski jumping and 500-meter speedskating race to lift its tally to 11 golds.
Earlier, Canada's Tessa Virtue and Scott Moir broke their own record in the ice dancing short program with 83.67 points. The French pair of Gabriella Papadakis and Guillaume Cizeron overcame a wardrobe malfunction to place second. Americans Madison Hubbell and Zachary Donohue are in third, two-hundredths of a point ahead of their compatriots, Maia and Alex Shibutani.
The free dance will be on Tuesday.
In women's hockey, the United States will be trying to win its first gold medal since 1998. Canada has won the last four gold medals.
"It's honestly a dream come true," U.S. forward Hilary Knight said. "This is the world's biggest stage. This is the game that you want. This is the game we've been dreaming of and to have another opportunity to get back here, it's huge."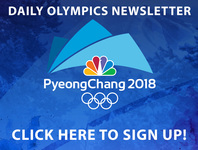 Dani Cameranesi scored two goals and added an assist to push the Americans to their big win over Finland. The 22-year-old Cameranesi is playing in her first Olympics.
Knight is one of six Americans who will get a third opportunity to win the gold. The others are captain Meghan Duggan, Gigi Marvin, Kacey Bellamy and twin sisters Monique Lamoureux-Morando and Jocelyne Lamoureux-Davidson.
"We're super excited to be in this position again," Lamoureux-Davidson said. "We worked four years to put ourselves in position to compete for a gold medal and we'll enjoy this for a little bit, but we know that this isn't what we came here for. We're ready to go to battle in a couple days."
Jennifer Wakefield scored twice for Canada and Shannon Szabados stopped 14 shots in its lopsided win over the Russians. Canada outshot Russia 47-14.
Finland remains winless in eight games against the United States at the Olympics. The Finns will try to win bronze for the first time since 2010 when they face the Russians, who have never won a medal in women's hockey.