Here are the Olympians to watch in NBC's primetime coverage on Wednesday, February 21 at 7:00 p.m.
• Short Track — Men's 500M Final
Pre-race favorite Wu Dajing (China) kept his nerve after a false start to win gold in record-breaking time. The 23-year-old set an electrifying pace ahead of Republic of Korea pair Hwang Daeheon and Lim Hyojun , who took home silver and bronze, respectively. No American men qualified for the round.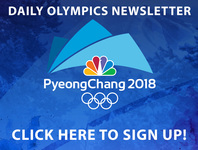 • Short Track — Women's 1000M Final
Suzanne Schulting of the Netherlands claimed an unexpected gold, while Canada's Kim Boutin earned silver and Italy's Arianna Fontana took bronze. No American women qualified for the round.
• Short Track — Men's 5000M Relay Final
With just two laps remaining, the Hungarian team moved past Canada to win gold, with China claiming silver and Canada just behind for the bronze.
• Figure Skating - Ladies' Free Skate
Americans Mirai Nagasu, Karen Chen, and Bradie Tennell enter the free skate ranked 9th, 10th and 11th place, respectively. The top of the three, Nagasu, is 11+ points off the podium, making it unlikely that Americans will medal. The top five ladies in the short program event all earned personal-best scores, setting up a dramatic free skate. Fifteen-year-old Alina Zagitova, competing as an Olympic Athlete from Russia, enters the free skate after recording the best score in the short program. Her training partner, Yevgenia Medvedeva, trails by only 1.31 points and should also be in the fight for gold.
• Freestyle Skiing — Women's Ski Cross Final
Canada's Marielle Thompson looks to repeat as champion but has a tough task coming off an ACL and MCL injury. Her biggest competitor for gold is Sweden's Sandra Naeslaund, who already has five wins for the 2017-18 season. Three-time Olympian Fanny Smith will be looking to find the podium after reaching the small finals in Vancouver and Sochi, and the Sochi silver medalist, Kelsey Serwa, is also returning as a potential medal threat. There are no American women competing in the event.
• Biathlon — Women's 4x6KM Relay
Darya Domracheva of Belarus became the first female biathlete to win four Olympic gold medals. Sweden earned silver and France took home bronze.