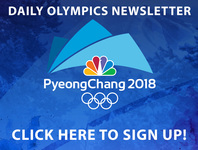 Here are the Olympians to watch in NBC's primetime coverage on Monday, February 19 at 7:00 p.m.
• Bobsled — Two-Man (Final Runs)
The first two runs have already concluded. Germany boasts three of the top five sleds heading into the final runs.
• Freestyle Skiing — Women's Halfpipe (Final)
Defending Olympic gold medalist Maddie Bowman should be part of a strong group of U.S. women. The Americans will also be represented by Devin Logan, who competed in slopestyle earlier in the Games, placing 10th. Canada's Cassie Sharpe, a standout for her daring tricks, and France's Marie Martinod, who won silver in Sochi following a lengthy break from competition, are two of the medal favorites.
• Alpine Skiing- Women's Downhill (Training)
Olympic gold medalist Lindsey Vonn was the first U.S. woman to win a downhill gold medal in 2010. Four years later, a right knee injury prevented her from attempting to defend her Olympic title. In PyeongChang, at 33, she could become the oldest woman to claim an Olympic Alpine medal.
• Figure Skating — Free Dance (for Gold Medal)
The U.S. has won medals at the last three Olympics in ice dance and fields a deep pool of talent, including siblings Maia and Alex Shibutani, who have won medals at the previous two World Championships. The two have been challenged by teammates Madison Chock and Evan Bates, and Madison Hubbell and Zach Donohue, the 2018 U.S. champions. The top American team is likely to win bronze, with gold expected to be decided between Vancouver winners Tessa Virtue and Scott Moir of Canada and their training partners in Montreal, two-time world champions Gabriella Papadakis and Guillaume Cizeron of France.
PRIME PLUS
• Freestyle Skiing — Men's Halfpipe (Qualifying)
The Americans field a deep team, including defending Olympic gold medalist David Wise, 2017 X Games winner and world champion Aaron Blunck and 2014 Olympian Torin Yater-Wallace. Blunck, whose grandfather started the ski school at Crested Butte Mountain Resort, has been friends since childhood with Yater-Wallace, who overcame a serious illness in 2015 before a successful return to the pipe. First-time Olympian Alex Ferreira is also likely to contend. Although the U.S. is favored to win gold, France and Canada are expected to be in the mix for medals: 2014 Olympic bronze medalist Kevin Rolland of France has some of the most difficult tricks in the field, and 2014 Olympic silver medalist Mike Riddle is part of a talented contingent of Canadians.