PYEONGCHANG, South Korea - Saying or writing the words "Olympic Athletes from Russia" is sort of a mouthful, so it's no surprise the athletes representing Russia at the Pyeongchang Games are often referred to as O.A.R.
In an unexpected twist, those initials have also spurred memories of O.A.R. (Of A Revolution), an American alternative rock band that had several hits in the 2000s. ESPN.com interviewed lead singer Marc Roberge, who said the jump in music fans taking a trip down memory lane is "absolutely surreal."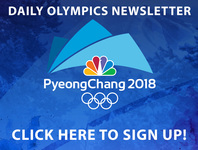 In case you've forgotten about O.A.R., here are a few of their more popular songs from their 2008 album "All Sides."
Russian athletes are participating in Pyeongchang as "Olympic Athletes from Russia."
The IOC suspended the Russian Olympic committee last year in connection with a massive doping scheme at the 2014 Olympics in Sochi but allowed 168 athletes to compete under neutral uniforms and without the Russian national flag.