PYEONGCHANG, South Korea (AP) — Mikaela Shiffrin placed her right glove over her heart soon after crossing the finish line, her mouth slightly agape in astonishment.
Indeed, that really did happen.
One Olympic gold medal down. More just might be on deck.
The 22-year-old American used a hard-charging final run to win the giant slalom Thursday for her second career Olympic title. Shiffrin trailed by 0.20 seconds after the first run but powered through a course filled with bumps to quickly make up time in the second.
She ended up 0.39 seconds ahead of Ragnhild Mowinckel of Norway at Yongpyong Alpine Center. Federica Brignone of Italy took bronze, 0.46 behind Shiffrin's combined time of 2 minutes, 20.02 seconds. First-run leader Manuela Moelgg of Italy wound up eighth.
"I don't know when it was, at some point today after the first run I thought, like, 'I can really win this,'" Shiffrin said. "I just tried to hang on to that feeling and then focus on my skiing a bit.
"It's crazy. There's so much emotion."
In second position after the first run, Shiffrin took a deep breath before charging out of the gate. She got stronger and stronger along the course, with the crowd cheering her on. Moelgg, the final racer of the top 30 to go, couldn't beat Shiffrin's time.
"She was skiing really nice and brilliant," said fourth-place finisher Viktoria Rebensburg of Germany. "That's why she deserved to win."
At the 2014 Sochi Games, Shiffrin won the slalom title at age 18. She will defend that title Friday.
It was an ideal afternoon for racing, with the temperature around 21 degrees Fahrenheit (minus-6 degrees Celsius) and the wind about 8 mph (13 kph). That's quite a difference from the last few days when three of the opening four races were postponed because of weather and strong wind. The women's giant slalom was initially scheduled for Monday but moved to Thursday. The slalom was supposed to be Wednesday but got pushed to Friday.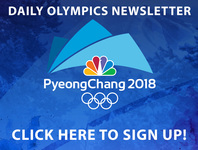 Coming into the Pyeongchang Olympics, there was talk about Shiffrin possibly chasing after quite a few medals. She's certainly off to a flying start, falling to the snow in excitement after her win.
The only thing that might slow down Shiffrin is exhaustion, due to the compacted schedule because of all the delays. Her mom, Eileen, said after the race that she wouldn't compete in the super-G.
The flip-flopping of events has been particularly burdensome.
"It's been a difficult few days, but it's all about remaining positive and remaining energized and excited to get the games going," said Mike Day, Shiffrin's coach. "At this point, the difficult days are just motivation for actually getting to compete. We're battling a little bit of fatigue from going up and down the gondola every day, and the excitement of getting ready to race and the disappointment of not getting to race. But we're in good shape."
This was quite a day for the Norwegians with Mowinckel taking silver. Down the road about 30 miles (50 kilometers) in Jeongseon, teammate Aksel Lund Svindal won the men's downhill and Kjetil Jansrud took second.
"I'm kind of speechless. It's unreal, then it's real, then it's just like I'm so happy," Mowinckel said. "I'm just happy that I could put together two runs."