What she also hopes to do, of course, is win a second gold medal in her sport's fastest event, to go along with the one from the 2010 Vancouver Olympics.
Vonn missed the Sochi Games four years ago after tearing ligaments in her right knee and has said this will be her last go-round at an Olympics.
She was asked this week how her health is at the moment.
JEONGSEON, South Korea (AP) — Lindsey Vonn prefers not to dwell on what shapes up as a significant story line for the women's downhill at the Pyeongchang Games.
"I've tried not to think about it as being my last Olympic downhill. Just focus on the moment, the right here and the right now. And I think later I'll reflect on how much I enjoyed it and how much my teammates and my coaches made it special for me," Vonn said ahead of Wednesday's contest. "But you can't get too sentimental right now, because I still have to race. I still have to be focused. And afterward, I'll do some reflecting."
"Everything's great. I feel like a million bucks," she said with a smile. "And 33!"
Vonn, generally considered the greatest female ski racer in history, was in strong form heading into these Olympics, winning the last three World Cup downhills she entered beforehand.
Most consider her the favorite, and she looked good in training runs. She produced the fastest time Sunday and the third fastest Monday despite easing up before the finish. In the final practice Tuesday, she was fourth fastest, trying different racing lines to see which created the most speed.
"Some of the lines I took (Tuesday) I think were faster, others not," Vonn said course-side, before going to analyze her run on video. "Everything feels pretty good."
Vonn promised an "all or nothing" effort.
"There's really no need to be nervous or think about pressure or expectation," she said. "If I'm nervous then I'm going to lose anyway, so what's the point?"
Here are other things to know about the women's downhill:
SURPRISE! NO LEDECKA
The woman responsible for one of the most stunning Alpine results in Olympic history will not be in the starting hut four days later.
Ester Ledecka of the Czech Republic, who had only once finished as high as seventh place in 19 career World Cup races, came out of nowhere to beat Vonn and others and win the super-G on Saturday.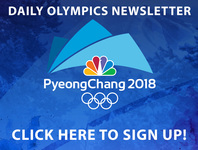 She's also a snowboarder, though, and instead of entering the Alpine downhill, she will switch to her other sport and try to qualify Thursday in the parallel giant slalom. That would make Ledecka the first athlete to compete in ski racing and snowboarding at the Winter Games.
Italy's Sofia Goggia, who edged Vonn in March to win the only World Cup downhill ever raced on this track, called Ledecka's double duty "one of the coolest things in the whole Olympics."
The last women's super-G champ who skipped the downhill at the same Winter Games was Diann Roffe of the U.S. in 1994.
NO SHIFFRIN, TOO
The altered Olympic program of back-to-back race days has not helped Mikaela Shiffrin.
Shiffrin opted out of the downhill after the schedule was changed late Monday by forecast strong winds, moving the Alpine combined event forward one day.
She will now focus her energy on Thursday's combined, which adds the times of a downhill and one run of slalom, her specialist discipline.
TWO GOLDS
There will be no repeat Olympic champion in this race, even though there were two winners — yes, two — in 2014.
Four years ago, Slovenia's Tina Maze and Switzerland's Dominique Gisin tied for the downhill title with the same time down to the hundredth of a second. It was the first time in 78 years of Olympic Alpine skiing there were double gold medals.
Maze and Gisin have since retired; Gisin's younger sister, Michelle, is in the lineup and was second fastest in the final practice run Tuesday. The bronze medalist last time, Lara Gut of Switzerland, is also a strong contender.
COURSE DESCRIPTION
Racers consider this a course that is neither particularly creative nor particularly steep, so the skiers need to generate pace on their own. "It's easy," Italy's Nadia Fanchini said. "Very beautiful, but very, very easy."