Canada's Cassie Sharpe has given her country its first medal in Olympic freestyle halfpipe skiing.
Sharpe posted the top two scores in the women's final at Phoenix Snow Park, with the 95.80 she put up during her second run the best of the finals.
France's Marie Martinod added a second silver to go with the one she captured in Sochi four years ago when the sport made its Olympic debut. Martinod scored 92.60 on her second run but fell during her third to assure Sharpe of the gold.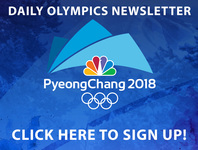 American Brita Sigourney edged teammate Annalisa Drew for bronze. Drew scored 90.80 on her final run to slip past Sigourney only to have Sigourney, the next skier down, put up a 91.80.
Defending Olympic champion Maddie Bowman of the United States fell on the final hit during each of her three runs in the finals.