What we know about Joseph Jakubowski
Suspected of stealing firearms from Janesville
Law enforcement continues to search for Joseph Jakubowski, the man suspected of stealing firearms from a Wisconsin gun store after threatening to carry out an unspecified attack.
A manhunt is underway for 32-year-old Joseph Jakubowski who is suspected of stealing firearms from a southern Wisconsin gun store.
Jakubowski threatened an unspecified attack that prompted several schools to close. He also sent an anti-government manifesto to President Donald Trump.
More than 150 law enforcement officers were searching for 32-year-old Joseph Jakubowski on Friday and the search continues on Saturday. The FBI is now involved.
The FBI says Jakubowski may have attempted to alter his appearance by shaving all facial hair and his head and have released photos of what he would possibly look like with hair removed.
The incident started on Tuesday, April 4 at 8:40 p.m. when deputies responded to an audible alarm at Armageddon Gun Shop (W, 2144 US-14, Janesville, WI 53545) and found evidence of a break in and burglary.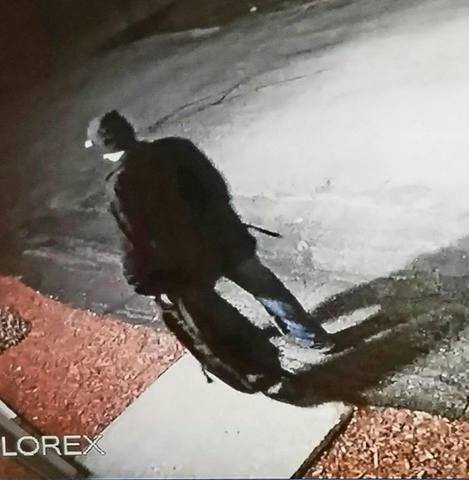 Video surveillance shows a white male suspect smashing the front door glass of the gun shop.
At least two assault rifles and several high-end handguns are among the stolen firearms.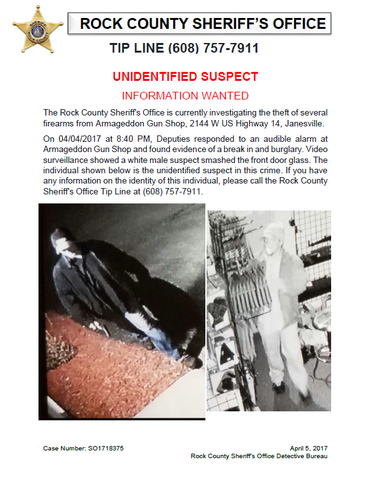 Jakubowski may have stolen silencers as well. Armageddon Supplies advertises silences on its Facebook page.
Jabukowski's vehicle was found burned around 9 p.m. Tuesday on Pennycook Lane, a short distance away from the location of the Armageddon Gun Shop burglary.
The Rock County Sheriff's Office confirms the FBI is investigating a 161-page manifesto written by Jakubowski.
The 161-page anti-government manifesto written by a Wisconsin man suspected of stealing guns from a local gun store
has arrived to the White House.
On April 11, The Rock County Sheriff's Office confirmed with TODAY'S
TMJ4
that the manifesto made it to the White House
Photo by: Eric Thayer
Video was sent into the newsroom of TODAY'S TMJ4 sister station WISC-TV Friday morning of what appears to be Jakubowski mailing his 161-page manifesto to President Trump at the White House.
Jakubowski's stepfather has spoken out to tell the public his stepson is 'as dangerous as they say he is.' Read more here .
On April 10, The Rock County Sheriff's Office released additional photographs that were taken in 2014 of tattoos that Jakubowski has.
The Janesville Police Department and Rock County Sheriff's Office added extra patrols near churches and places of worship Sunday . Police said Jakubowski expressed "anti-religious views" in his 161-page manifesto.
Photo taken on April 4, 2017 at 1p.m. at the Mobil Gas Station, 1215 Milton Avenue, Janesville, WI hours before the robbery. 
The photos were released by the Rock County Sheriff's Office on Saturday morning.
The FBI is involved with the investigation and is offering a $10,000 reward for information leading to Jakubowski's capture.
As of Monday, April 11, the Rock County Sheriff's Office says they have received more than 500 tips on the possible whereabouts of Jakubowski.
Court records show Jakubowski has a lengthy criminal record. (SOURCE: Wicourts.gov )
Most were for traffic violations...
Though Jakubowski has previously resisted arrest and once tried to disarm an officer.