A worker who had a Ku Klux Klan sticker on their lunch cooler was fired Monday.
The cooler was brought to the worksite near 25th and Wells. Over the weekend, vandals spray-painted "Racists Go Home" on equipment at the site after the photo surfaced, apparently in retaliation.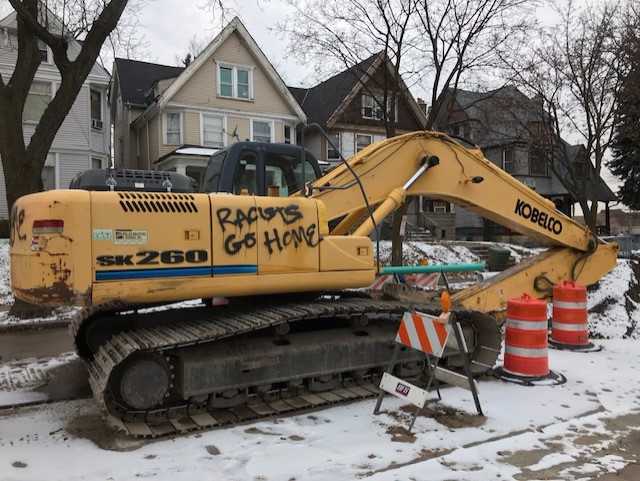 The person fired worked for American Sewer Services, the same company that employed the three workers who were disciplined for carrying guns on the job. One person was fired in that incident and the other two were suspended.
The company released the following statement Monday:
I share the outrage expressed by city leaders over this disturbing display of hate speech. It in no way represents the feelings of American Sewer Services nor our diverse group of employees. The offending employee was immediately dismissed because of his inappropriate actions. We are in the process of updating our internal policies so that we may stop any re-occurrence as well as implementing a new weapons policy. American Sewer Services has had an excellent relationship with the City of Milwaukee for over 30 years. We look forward to working with city leaders to help restore their trust in us.
In a news release, Alderwoman Milele Coggs said, "It is sad and unfortunate that in 2017 we continue to see hurtful and painful symbols from our nation's past brought into work spaces and places where our community members reside, but we must address it. It is my sincere hope that we can create a clear path forward that affirms a standard of respect for our community and one that leaves no room for offensive displays or messages. That standard will be clear and all companies we do business with will be required to abide by it at all times."
Alderman Russell Stamper said in the release, "This company has allowed an atmosphere of disrespect and intolerance to exist and it is now being brought to the light. The brashness shown in the photo with the guns, and now this photo can be directly attributed to the environment this company has fostered with its employees, an environment where there is a total disregard for the community in which they serve."
A rally is planned for Monday night at 6 p.m. as members of Voces De La Frotera, the NAACP and other groups demand answers after the lunch cooler photo surfaced.