Police shoot, injure suspect near downtown Milwaukee Thursday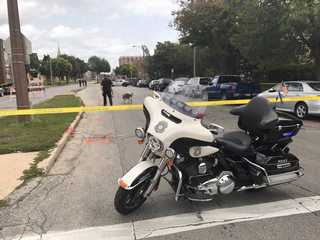 MILWAUKEE (AP) -- Authorities say an armed suspect who fled from Milwaukee police was shot by an officer after a confrontation.
Police say they received of a call of someone with a gun at about 12:45 p.m. Thursday near North 28th Street and West Wisconsin Avenue. Two officers spotted a man matching the description of the suspect, who took off on foot.
After officers caught up to the suspect, authorities say one officer fired his handgun, striking the man. It's not clear what led to the confrontation.
Police say the suspect was transported to a local hospital with serious injuries. His condition is not known.
The two officers have been placed on administrative leave, per department policy. They were not injured.