Memorial Day is the unofficial start of summer and there's plenty of things going on across the state.
From parades to baseball to farmers markets, here's your official guide to help kick off your long weekend right!
You can find a list of activities by clicking the "NEXT" button at the bottom of the page, or scrolling down.
Have a safe and fun weekend!
%page_break%
1) REMEMBER THOSE WHO SERVED - MEMORIAL DAY PARADES
Attend a Memorial Day Parade on May 30 to honor those who died in the line of duty while serving our country.
CHECK THE LATEST STORM TEAM 4CAST, BEFORE YOU HEAD OUT...
%page_break%
MEMORIAL DAY EXTRA: Traveling Far With The Kids?
Lucky for you, we've scouted 10 apps every parent should download before buckling in. From playing the best audio books to scouting engaging pit stops, these apps will fend off any whispers of, "Are we there yet?"
Click here for the story from Roadtrippers.com.
%page_break%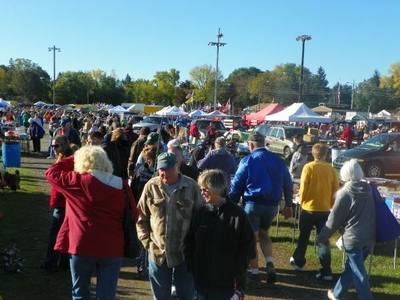 2) FARMER'S MARKETS ARE BACK
Farmer's market season is heating up! Check out these Farmer's Markets this weekend.
Ask The Expert: Getting Ready For Gardening Season
%page_break%

3) SHOP & SAVE AT SIDEWALK SALES
Nearby outlet malls have extended their hours for their Memorial Day Sidewalk Sale
GALLERY: Grand Avenue Mall Renderings
%page_break%
MEMORIAL DAY EXTRA: 11 Historical Locations For a Memorial Day Trip
The United States has a fascinating past, which, thankfully, the government has been careful to preserve.
More than likely, you can drive just a few hours to visit a national monument or memorial. Whether you're looking to entertain kids or looking to spend some time doing something a little different, each of these historic sites are like a puzzle piece that help tell the sometimes somber story of America, and why it's such a unique place.
%page_break%

4) GET THAT RUSH OF ADRENALINE AT AN AMUSEMENT PARK
Nearby Amusement parks are open! Check out their Memorial Day weekend hours below:
GALLERY: 12th Annual Milwaukee Pug Fest
%page_break%
5) KEEP COOL & GO SWIMMING
Local outdoor community pools will start opening their doors for the summer.
GALLERY: Bradford Beach Opening Weekend
%page_break%
MEMORIAL DAY EXTRA: 13 Memorial Day Trip Deals For Military Families
Memorial Day weekend is the perfect time for military families to create some happy memories.
The best part of a Memorial Day road trip? Military families can take advantage of some major savings thanks to the numerous special discounts offered to recognize the holiday.
%page_break%
6) GO SIGHTSEEING! EXPLORE YOUR COMMUNITY
Whether it's on foot, boat, or even segway...there are plenty of ways to explore the city.
Did You Know They Support the Green and Gold?
%page_break%

7) RELAX & ENJOY A BEER
Whether it's going on a brewery tour, going to a beer festival or having one at home...enjoy the start of the summer.
GALLERY: Sprecher Traveling Beer Garden Opening Day
%page_break%
MEMORIAL DAY EXTRA: 5 Must-Have Memorial Day Grilling Tools
Memorial Day weekend usually means the first cookouts of the year.
Are you equipped to be a holiday barbecue master? Check out some of the latest innovations that can help any cook feel and look like a professional.
%page_break%

8) THE BREWERS ARE HOME, ALL MEMORIAL DAY WEEKEND
The Brewers are in town all Memorial Day weekend and will have "Spring Madness" promotions at each game.
Speaking of baseball, there will be Baseball Card Show heading to Milwaukee!
Scenes from "Weather Day" at Miller Park
%page_break%
9) LET YOUR CREATIVE SIDE OUT, EXPLORE ART
Whether it's going to an art show, running through colorful powder or creating your own masterpiece, there are plenty of art events happening around town.
Inside The Milwaukee Art Museum Coloring Book
%page_break%
MEMORIAL DAY EXTRA: How Did Memorial Day Get Started?
American holidays for military veterans sometimes can be confusing.
Several holidays commemorate specific military victories, while Memorial Day and Veterans Day are two distinct holidays that have separate beginnings.
Memorial Day's true origin is difficult to decipher, but communities started what has become Memorial Day after the Civil War.
%page_break%
10) BE A TOURIST IN YOUR OWN STATE, VISIT A FAMOUS WISCONSIN ATTRACTION
With the extended weekend and warmer weather approaching, have fun at one of these famous Wisconsin attractions.