Milwaukee police need your help identifying three armed robbery suspects who allegedly robbed a cell phone store on the city's north side Saturday.
Police say the three robbed the Metro PCS near the corner of Capitol Drive and Teutonia Avenue.
Police released descriptions of the three suspects:
Suspect 1- Black male with a light complexion, about 20-years old, 5'8" tall, weighing 160 pounds, wearing a red and gray Potawatomi jacket.
Suspect 2- A black male in his 30's wearing a motorcycle jacket, grey hoodie and pink gloves.
Suspect 3- A black male wearing a black, puffy jacket, blank pants and black shoes.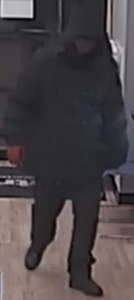 The suspects reportedly pulled guns and demanded money. They took the cash and some merchandise, then left the store.
Anyone with information should call Milwaukee Police at 414-935-7360.