MillerCoors breaks ground Friday on 10th Street brewery expansion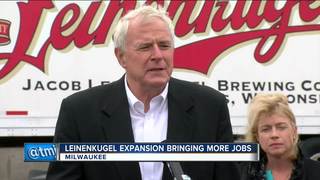 State and local leaders celebrated a ceremonial groundbreaking at the Leinenkugel's 10th Street Brewery on Milwaukee's North side Friday.
The $50 million expansion will bring 65 new jobs to the city, a big boost to economic growth.
"We put our money where our mouth is and that's what we're doing here," said Kelly Grebe, MillerCoors chief legal and corporate service officer.
The day was gloomy day for the event, but officials say the future is bright.
"This is more investment, more jobs, more beer. What can be more exciting here in Wisconsin than all of those things? But this is yet another sign that Milwaukee, particularly downtown Milwaukee, is taking off," said Gov. Scott Walker.
The new expansion will include a 119,338 square-foot packaging and warehouse facility.
Currently the company brews 25,000 barrels a year. After this addition they will be able to increase that to 250,000 barrels a year.
"For me this is a win-win situation," said Milwaukee Mayor Tom Barrett.
Not only because it brings jobs to Milwaukee but because Barrett believes this will bring jobs to those living in this North side neighborhood.
"I'm confident that they will be. They understand the importance and our conversations with them they emphasize that they want to be good partners with this neighborhood as well and this is a neighborhood where people need jobs so I'm hopeful," Barrett said.
All jobs will be full time, some salary, majority hourly. If interested you can apply on the MillerCoors website.
"What we're seeing here is a continued investment in this community by a cooperation that understands the importance of being a part of the community," Barrett said.
The expansion is expected to be complete by March of next year. Construction will begin next month.

Be sure and watch TODAY'S TMJ4 on Roku! We are the only station in Milwaukee to provide the latest news, weather and sports on the device. Search for us on Roku today!