MILWAUKEE — Milwaukee police are trying to track down the person who was recklessly driving on sidewalks near Bradley Tech High School and almost struck pedestrians on Monday.
Video sent to TMJ4 News shows a car driving on the sidewalk as students were leaving Monday afternoon.
MPD said the person was driving a silver Hyundai around 3:44 p.m. in the 700 block of South 4th Street.
Robert Newhauser works down the block. He said he ran out to film what was going on when he heard the tires screeching.
"He went up the sidewalk towards the students, pulled in the courtyard, spun around, I believe he did two laps around in there," Newhauser said. "Thank God he didn't hit anybody."
Ninth grader Asia Xiong said she was just inside the school doors as it happened.
"It makes me mad because I care bout people and it's innocent lives," Xiong said.
Police say they do not know the suspect's identity at this time. No other information was released.
Since then crews have put barriers in front of the school courtyard and sidewalks.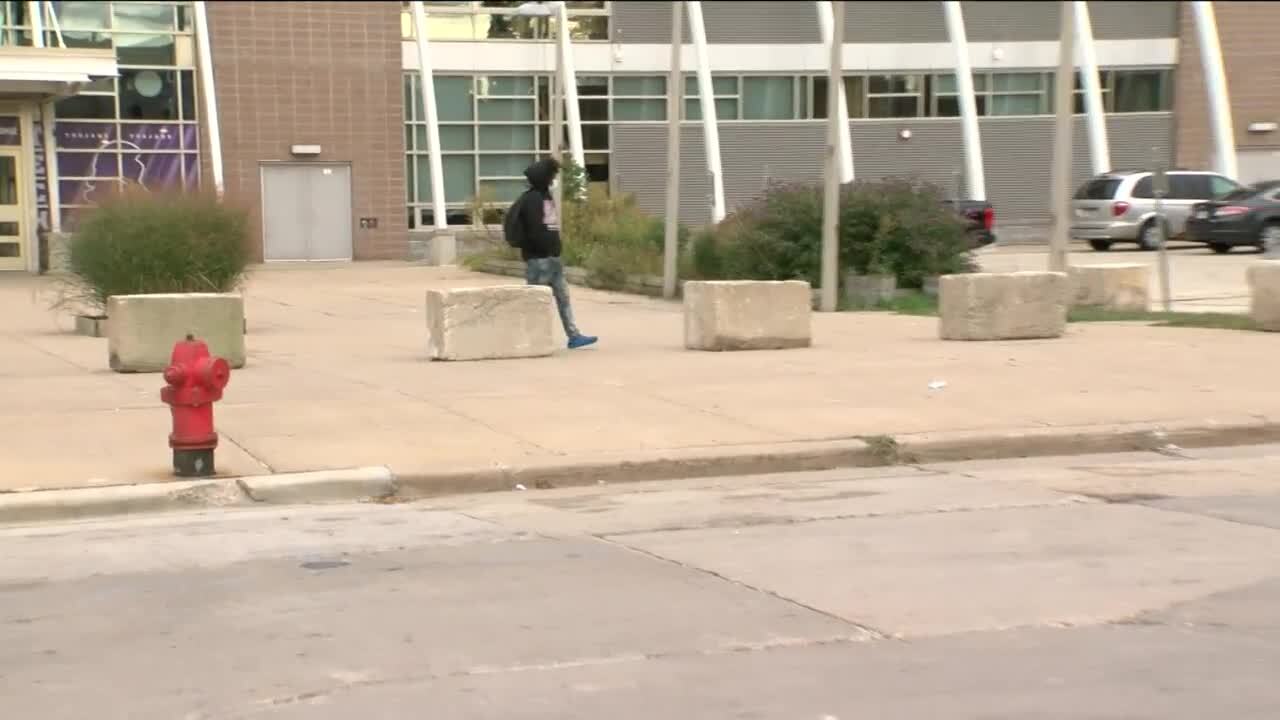 A spokesperson for Milwaukee Public Schools released this statement: "Milwaukee Public Schools understands the concern regarding reckless driving happening around the city. The district continues to implement safety measures throughout school sites, including but not limited to staggered dismissal times for students, and installing stakes, boulders, and other concrete barriers. We are also working with city leaders and local authorities to combat this dangerous trend and help create a safer city for all."
Luke Zimmerman lives yards from the school and says reckless driving has been going on for about a week now.
"Mostly I'm just worried for the kids," Zimmerman said. "Being a teenager and going to school is stressful enough, let alone when someone is trying to run you down in a car."
Some community leaders who saw the video are frustrated.
Jordan Morales is part of the Sherman Park Reckless Driving Committee. He is working on ways to prevent reckless driving in his neighborhood as well as all of Milwaukee.
"Now you're seeing in front of the school yards the fruit of that lawlessness," Morales said. "Kids can think they're just driving through the front of the school yards and nothing's going to happen."
Xiong has a message for the drivers: please stop.
"If you were in the same situation as the person sitting out there, you would feel the same way how we feel," Xiong said. "Scared to go outside because you're driving crazy pretty much."
Anyone with any information is asked to contact Milwaukee Police at (414) 935-7222 or Crime Stoppers at (414) 224-TIPS or P3 Tips App to remain anonymous.