MILWAUKEE — A new program is looking to eliminate racial disparities in Wisconsin's education system before kids are even old enough to step foot into a classroom.
The Waterford Upstart program was created in Utah 12 years ago and has expanded to many states. Last year, the program entered Wisconsin and is being offered to eligible families for free.
"I think it's priceless, honestly," Tori Lord-White said.
Lord-White's five-year-old son Sól was enrolled in the program last summer. She says he really enjoyed the program, tapping into it online for 15 minutes a day, 5 days a week. She has made it a point to get him learning early.
"I think it's extremely important at that age," She said. "They're more willing to take things in and have more of a blank pallet to work with. He can count to 100 easily and count by tens. He's doing great."
Waterford says 2.2 million kids across the country lack access to early childhood education, which can be expensive. The barriers make it difficult for those children to keep up once they get into school. Waterford estimates those kids fall behind by as many as two years once they enter school and may never catch up.
"If a child starts behind, they're more likely to stay behind which is why they end up missing that third-grade marker," Kim Fischer, National Spokesperson for Waterford Upstart said. "Our program is really to try and get all children at the same level so they hit that third-grade marker in the right way. We are building the foundation for literacy. Letter recognition, phonological awareness, phonemic awareness. Basically, getting children to start putting those letters together and reading."
The program also offers a free device and internet access to families who qualify.
A Stanford University study with data from the National Assessment of Educational Progress, Wisconsin is in the bottom five for the white-black achievement gap in both reading and math for grade 4 (4th and 3rd worst states respectively). For 8th graders, Wisconsin is the worst state for white-black achievement gap in both reading and math.
A study by Annie E. Casey Foundation finds "one in six children who are not reading proficiently in the third grade do not graduate from high school on time, a rate four times greater than that for proficient readers."
This leads to a possible reason why Wisconsin has the worst achievement gap for graduation rates in the country. The National Center for Education Statistics found, in 2018, 94 percent of white students in Wisconsin graduated from high school, compared to 70 percent of African American students.
"I definitely see this as an opportunity to help lessen that achievement gap," Amy Shepherd, Director of Early Learning at Racine Unified School District said. "We're hoping to see those gains over the next three years."
RUSD is one of six school districts in Wisconsin participating in the program. It's also available at Green Bay Area Public School District, Lac du Flambeau No. 1 School District, Milwaukee Public Schools, North Crawford School District and Siren School District.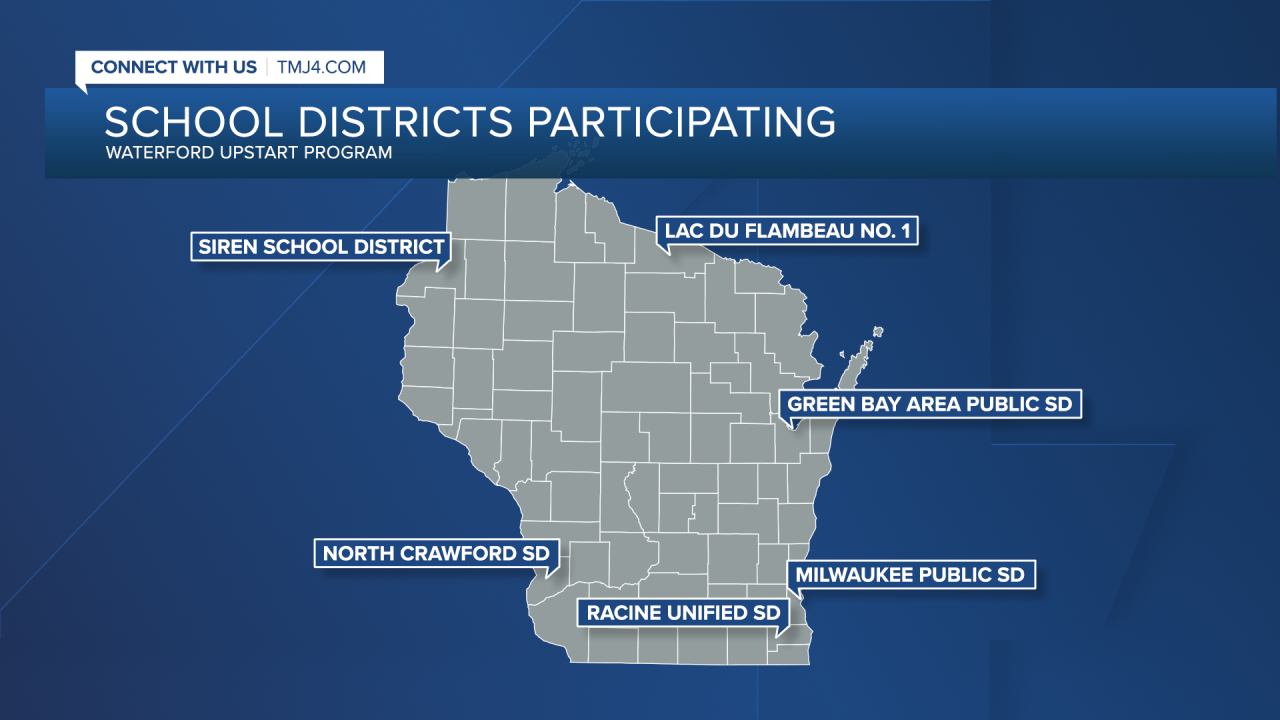 Shepherd says this program can be a part of solving the greater puzzle.
"We know that a high quality, early childhood experience from birth to five-years-old really sets that foundation for success later on in life and learning," Shepherd said. "Children who have a high-quality early childhood preschool experience have really shown to make great gains, greater than their peers."
"You start at the beginning with learning to read," Joandy Williams, Early Childhood Learning Manager with Milwaukee Public Schools said. "Now, you are reading to learn information. The earlier you can start to get the foundation, the more prepared you'll be at the end."
Williams points out to programs the district already offers to support families with early education, even starting as young as three-years-old. MPS is virtually enrolling kids into these programs on February 6 and February 20.
Even still, they welcome any additional help.
"We need to start setting up our children for success and start as soon as they're able to be part of that educational arena," Williams said. "That first five years of life are critical in a child's development. They receive foundational skills when they're starting to enter kindergarten."
The Waterford Upstart program is designed to help teach students, even in a virtual setting. The 15-minute lessons are geared towards what works best for children.
"Think about a four-year-old and how long their attention span is," Fischer said. "Not very long. So that 15 minutes is really all you need to get in there and get them prepared. Our program is fun so children have a really good time with it and they don't realize that they're learning."
On top of the free education, device and internet access, families get personalized coaching to help make sure the child is on top of learning.
"Parents are also coached through the process," Fischer said. "Families get a coach and they walk them through the process. They answer questions, check in on them and just give them encouragement when needed. Parents also get push notifications to let them know how their child is doing and let them know how they can interact with their child with what they're specifically learning offline."
The program runs through August but Waterford is already looking for three and four-year-old children to register for the fall. Anyone with children entering Kindergarten in 2022 and are in the eligible school districts can register on the Waterford Upstart website.