Got $9 million burning a hole in your pocket? That's the price tag if you want to live in the most beautiful house for sale in the state of Wisconsin.
Architectural Digest broke down the most beautiful homes for sale in every state, and a Lake Geneva mansion got the nod for Wisconsin.
The 17,597 square foot, 3-acre property is named Royal Oaks, and is located at 4396 Basswood Drive. It has 7 bedrooms and 11 bathrooms -- in other words, nobody in your family will be waiting to use the shower anytime soon.
Just in case that price tag makes you blink twice, take into account that you're getting a bit of a deal. It was initially listed at $10.5 million in April 2016, but has been reduced to its current price of $8.995 million. That's only $597 a square foot!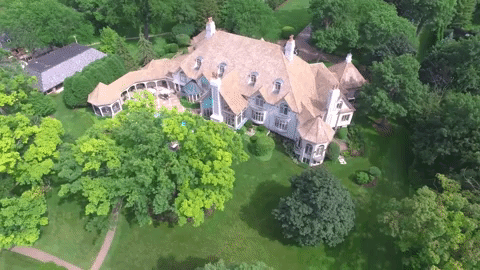 If that sounds like a lot -- actually, is. A 30-year fixed loan with a $1.8 million 20 percent down payment translates to around $44,417 for a monthly mortgage payment. And that doesn't even include your landscaper!
The property's realtor, David Curry, says everything about the estate is grand -- from the fountain in front, to the entrance and the five fireplaces.
The home also has a lakeside patio with underground pool, a personal boat dock and a three-bedroom guesthouse.
The area itself has a rich history in Wisconsin and is popular among summer vacationers.
Architectural Digest says it chose the homes in each state based on the unique landscape and inspiring designs.