10 Wisconsin towns with odd names
Poy Sippi? Beetown? The state of Wisconsin contains more than 1,800 cities and towns, so not surprisingly, some have some pretty unusual names and interesting stories.
Poy Sippi (Waushara County)
Located 26 miles west of Oshkosh
Population: 950
Got its name from the Potawatomi people who called the Pine River Polygon Sippi because it flowed into nearby Polygon Lake.
Claim to fame: Poy Sippi Days on June 17th.
Koshkonong (Jefferson County)
Located on the shores of Lake Koshkonong near Fort Atkinson.
Population: 3,000 people
Got its name from the Potawatomi people who called it Gishkzhegonang, or catfish place, with the English translation as Koshkonong.
Claim to fame: Fort Koshkonong Rendezvous on Memorial Day Weekend.
Fence (Florence County)
Located near the Wisconsin-Michigan border 16 miles south of Florence.
Population: About 200 people. Locals say the name stems from an Indian hunting method. They would build two fences, one of brush and one of pickets, when the deer jumped over the first fence they would land on the sharp points of the second fence. Fence will celebrate its 100th birthday at a community celebration in 2021.
Weyauwega (Waupaca County)
Located off of Highway 10 between Stevens Point and Appleton.
Population: 1,900. Locals say former Wisconsin Governor James Doty named the town's first post office for his Indian guide friend "Weyauweya." The name was later changed to Weyauwega. Weyauwega is also home to 5 cheese making companies. Claim to fame: Horse and Buggy Days in mid-September.
Bosstown (Richland County)
Located about 50 miles South of La Crosse
Population: 12 people. The community is believed to have been named after William "Boss" Dosh, who owned the only store in town and was said to be bossy. Claim to fame: Popp's cave is a popular destination for hikers and explorers.
Spread Eagle (Florence County) Located on US Highway 2, 5 miles west of Iron Mountain
Population: Unknown. The town is named after the Spread Eagle chain of lakes. The lakes get their name from how the lakes look like a spread eagle. Claim to Fame: The lakes and rivers attract vacationers and people who have summer homes in the area.
Cataract (Monroe County)
Located on highway 27, 12 miles north of Sparta. Population: Around 150 people. No word on exactly how Cataract got it's name, but locals say it is likely concected to a waterfall in town also know as a cataract. Claim to Fame: The Paul and Matilda Grotto, an outdoor collection of concrete folk art sculptures encrusted with shards of glass, ceramics, seashells and other materials.
Beetown (Grant County) Located 35 Miles north of Dubuque. Population: 65 people. It got its name in the 1820s when residents encountered a swarm of bees as they tried to remove a huge tree that was destroyed in a storm. Claim to fame: Once the home of Lisle Blackbourn, who coached the Packers in the 1950s.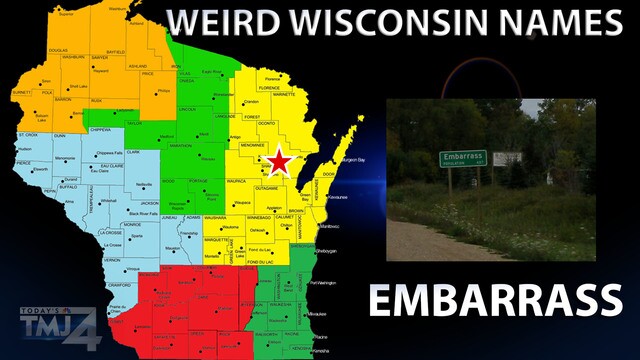 Embarrass (Waupaca County) Located between Clintonville and Shawano on Highway 22.
Population: 400 people. Got its name from French lumberjacks who had trouble sending logs down a debris filled river. Claim to Fame: Annual Volunteer Firefighters parade and Fun Daze on July 29th.
Ojibwa (Sawyer County). Located on the Chippewa River about 100 miles north of Eau Claire.
Population: Around 250 people. Got its name from the Ojibwe Indian tribe. Claim to fame: Home of great musky fishing and the Ojibwa Canoe Races on August 12th.