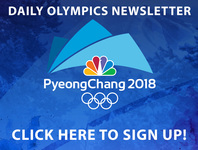 In a meeting last year, leaders of the US Olympic Committee predicted Team USA would win 37 medals in Pyeongchang.
Even if the U.S. takes home a medal in every possible remaining event, they will fall more than 10 medals short of their goal .
The Olympic Committee has been reluctant to make these predictions public in the past, but their chief of sport performance, Alan Ashley, acknowledged the shortcoming.
"I look at it and I go, 'OK, medals are one story, but if you look at the depth of everything that's going on, and the number of people who are fourth and fifth place, and the commitment level and intensity of the athletes, you can't ask for more than that," Ashley told the Associated Press.
Olympic skier Lindsey Vonn, who brought home a bronze in the downhill, said America's performance shouldn't be judged strictly by medal count.
"The expectation of winning gold medals is pretty out of whack and I think we need to be proud of all of our athletes for how much they've sacrificed and put in to be here," she said. "Medals — they're not necessarily what the Olympics are all about."
The Olympic committee admits to overdoing it with their predictions, a style of Ashley's in contrast of former chairman, Peter Ueberroth, who believed in under-promising then over-delivering.
On a sport-to-sport breakdown, here are the teams that missed their mark:
Speed skating was tabbed to win four medals; through Friday, it had one.
Bobsled and luge predicted a total of four; they had two.
In the strangest twist, freestyle skiing and snowboarding — action sports that have padded the U.S. medal count over the last few Olympics, and especially this year — were pegged to collect 18 medals. Heading into Saturday, those sports had amassed 10. Wins by Shaun White, Chloe Kim, Red Gerard and others turned the Phoenix Snow Park into a consistent beacon of hope for a struggling team. And yet, the over-projections in those sports accounts for a large chunk of the shortfall.
The U.S. dipped to 28 medals in 2014, and the AP projects a finish of 23 this year. Reflected as a percentage of medals won — the number available has steadily grown with the addition of more action sports, among others, to the program — the U.S. took 14.3 percent in 2010, 9.6 percent in 2014 and will be at 7.5 percent this year if it closes with 23.
Funding for Winter sports, meanwhile, has been on a steady uptick this decade. The amount granted to Winter sports federations in the years 2015-16 increased by nearly 6 percent from the corresponding window of the previous Olympic cycle, 2011-12.