JEONGSEON, South Korea (AP) _ The pressure was on Bryce Bennett at the Pyeongchang Olympics.
After months of work, the skier was about to get the rare opportunity to showcase his talents in front of a prime-time American audience. He knew there might be interviews coming with the "Today" Show and Stephen Colbert. The U.S. Ski & Snowboard Team didn't ease expectations when they said the 6-foot-7 downhill competitor would "get you stoked."
Social media's review? Fire emojis and thumbs up.
For the facial hair.
His skiing was fine, too.
The U.S. Ski & Snowboard Team hyped NBC's broadcast of the men's downhill with a photo of Bennett's slick, dark mustache, and Bennett showed it off while finishing 16th, best among the American competitors.
The mustache wasn't a planned way for Bennett to get attention during the games, but it sure worked. His social media has been busy with comments about the look, which he began growing in November. It was supposed to be a one-month deal, but he decided to at least keep it through Olympic qualifying. After locking up his spot, he figured it best not to mess with what was working.
The wind is low and the men's downhill is officially ON today! To get you stoked, here's a photo of downhiller Bryce Bennett's mustache.

Turn your TV to @NBC or click this link to live stream: https://t.co/L4nSkQzF14. Race starts at 9:30pm ET! #GoTeamUSA pic.twitter.com/AA8wEdBjf7

— U.S. Ski & Snowboard Team (@usskiteam) February 15, 2018
"Why would I shave it if it's giving me some power?" he said. "It's a power 'stache."
He and teammate Wiley Maple dyed their mustaches "jet black" ahead of the games, and Bennett tried to curl the edges of his look prior to the downhill. The curls didn't stick.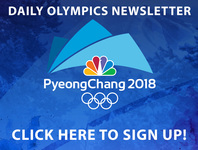 "It's like, not that good," he said. "It's kind of scrappy. It's not a good mustache."
Bennett says a friend from his hometown in Truckee, California, is a competitor at the World Beard and Mustache Championships, held last year in Austin, Texas. That mustache has provided some inspiration.
"He kills it," Bennett said. "He kills it. His mustache is perfect. And I just can't do that, but I'll try. Try my best."
It seemed to please the fans back home. Bennett's Instagram was jammed with messages about the 'stache. One commenter pleaded that "whatever you do with all that time DO NOT shave the mustache."
Just don't expect it to be a permanent look.
"I'm probably going to shave it here soon," he said. "My girlfriend's over it."