From a young age, Matt Antoine did everything on all cylinders.
"The speed is the biggest thing. I always loved auto racing growing up, I wanted to be a racecar driver," said Matt Antoine, Prairie du Chien native and Olympian.
But destiny has a different sport in mind for young Antoine.
"I first saw skeleton in 2002, when it made its return fulltime to the Olympics. It really caught my attention. I loved winter sports, anything that went fast, so skeleton put those two together," said Antoine.
Struck by love at first sight, Antoine had new ambitions.
"I always had a dream when I started the sport that I would be an Olympic medalist.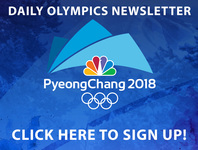 But I think everyone has that dream and very few get to achieve it," said Antoine.
Now apart of one of the most exclusive groups in the sports world, with a bronze finish at the 2014 winter games, Antoine's dream came true.
"It's come a long way over the last 15 years. There are times where I sit back and think that's pretty incredible what's happened," said Antoine.
His story doesn't stop there. On January 5th of the year, Antoine became the first US skeleton slider to punch his ticker to Pyeongchang.
"I think it's going to be quite cold there from what I've heard. I think it's going to be much colder than the last two Olympics for sure. We've had two opportunities to go to the track in Korea and slide it, try to learn basically everything we can about it. Once we get back there we'll get about ten more training runs before we compete," said Antoine.
Set to represent the red, white, and blue yet again, this Olympian who grew up with a need for speed, maybe secretly hopes that time slows down. As he prepares to make more memories to last a lifetime.
"It's different from when you're a kid and you dream about it, or when you first start and you hope it happens, to the point when it actually does happen. Regardless how the next couple months go or whenever my career is over, everything that happens from here on out I'm going to appreciate the things that I have accomplished for sure," said Antoine.