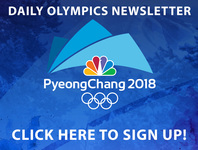 On the day of Chloe Kim's big halfpipe run, her father, Jong Jin Kim was there to support her, as he has been since giving up his job to help her reach her snowboarding dreams.
He showed his love for Chloe, holding a homemade, laminated sign.
Ultimate Dad Sign Move by Chloe Kim's dad. He's too precious. We must protect him. #Olympics pic.twitter.com/VeThDazErV

— Patrick Quaife (@pquaife) February 13, 2018
That morning, Kim sent his daughter a text, reminding her that it was her time to become the dragon. Chloe was born in the year of the dragon, so her father repeatedly yelled, "Imugi!" The Imugi is a Korean tradition of a simple snake turning into a dragon, usually after 1,000 years. But her father reminded her that it was the day for her to turn into the dragon.
The Washington Post reported that he texted his daughter, "Today is the day imugi turns to dragon."
Chloe may or may not have embraced Imugi, but she took home the gold nonetheless.
Jong Jim Kim told CNN, "I'm the dad of an Olympic gold medalist, not many people have this kind of feeling."
After emigrating from South Korea in 1982 with only $800 cash, Jong Jim Kim was on the quest for the American dream. With all of Chloe's success, he is one proud father. Kim agreed on the TODAYShow that Chloe is the American dream.
WHEN CHLOE KIM'S FATHER, AN IMMIGRANT, SAID THAT SHE WAS HIS AMERICAN DREAM pic.twitter.com/DsJS31nclT

— extra guacamomole (@guacamomole) February 13, 2018
After Chloe won the gold, her dad drank a cold beer in celebration.
🙌 CELEBRATION!!! 🙌

Drinking a cold one after your daughter wins the Gold one. Chloe Kim's dad, Jong Jin Kim@chloekimsnow 🇺🇸 🥇 🇰🇷 #Pyeongchang2018 #OLYMPICS pic.twitter.com/M4EucnAftY

— Coy Wire (@CoyWire) February 13, 2018
Fans love Chloe's dad and he's gained quite the popularity on social media.
Watching Chloe Kim is breathtaking. Watching her dad watch her IS LIFE. pic.twitter.com/c7nO78Pckn

— Richard Kim (@RichardKimNYC) February 13, 2018