Austrian snowboarder Markus Schairer broke his neck after a crash during the quarterfinals of the snowboard cross.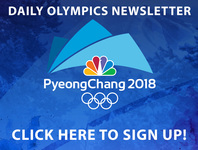 Böser Sturz von Markus #Schairer im #Snowboard Boardercross. Halswirbelbruch, aber Ärzte befürchten keine Folgeschäden #PyeongChang2018 pic.twitter.com/iaptkStpYW

— Lukas Zahrer (@ZaraLuk) February 15, 2018
The video, shared by journalist Lukas Zahrer, said that Schairer suffered a cervical vertebral fracture, but doctors feared no long term damage.
A translated statement from the Austrian Olympic website confirmed, saying Schairer fractured his fifth cervical vertebra and neurological impairments are not present.
The Associated Press reported that Schairer's Olympics are done, and eh is headed back home.