PYEONGCHANG, South Korea (AP) — After more than two weeks of thrills, spills, speed and drama, we have reached the last full day of competition at the Pyeongchang Olympics. Here are the can't-miss events on Saturday. (All times Eastern.)
CURLING
The U.S. men have made it to the gold medal game for the first time and will face Sweden at 1:35 a.m. Keep an eye on the U.S. skip John Shuster . He is leading the team at his fourth Olympics after being unable to make it in 2014. If you haven't been paying attention, don't worry, we have a primer. Because the players are mic'd up, you can hear their banter and listen as they shout commands at each other to sweep, "HARD!" The sweeping helps reduce friction on the textured ice, moving the stones farther or in a particular direction.
Sweden also goes for the women's gold medal against host and fan favorites South Korea at 7:05 p.m. Watch South Korea's young team and its skip's distinctive glasses, which have become fodder for endless internet memes.
BOBSLED
For those who like a lot of speed and a little danger, the final two heats of the four-man bobsled will be run at 7:30 p.m. and 9:15 p.m. The two-man competition finished with a thrilling gold medal tie between Canada and Germany . Watch how all the men push and sprint at the start before hopping into the sled in a coordinated dance. They wear even spiked shoes to grip the ice. Look out for the U.S. sled driven by Justin Olsen, who underwent an emergency appendectomy here in South Korea just a few weeks ago.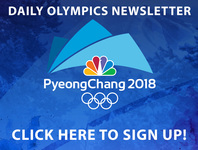 ICE HOCKEY
The men's gold medal game is always a premier event at the Olympics and this year is no exception. The puck drops at 11:10 p.m. when the Russians face an unexpected foe: Germany. Canada won gold in 2010 and 2014, but without NHL players, the team was not the powerhouse it usually is. A team from Russia has not won a gold medal in men's hockey since 1992 and would love a win to cap off its scandal-tainted games. The bronze medal game between Canada and the Czech Republic will be at 7:10 a.m.
SPEEDSKATING
New to the Olympics this year is speedskating mass-start races. In traditional speedskating, the battle is only against the clock. Athletes go fast, but the scene is measured. In mass start, the oval will be a traffic jam with up to 28 skaters on the ice at the same time, all jockeying for position. Is it crazy? Well, it is the only event at the oval for which the athletes wear helmets. And just to liven things up even more, scoring is points based, so racers will sprint on the straights every once in a while to be in a better position. Both the men and women compete in semifinals and final races between 6 a.m. and 8 a.m.