Brookfield Central falls to Waunakee in state final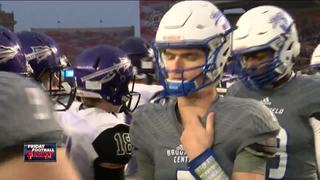 MADISON - We've used the term "tale of two halves" before, but there is no better way to put it in the case of tonight's Division 2 State Final between Brookfield Central and Waunakee.
We'd be lying if we told you that we didn't count this one as a Lancers victory by half time. And anyone watching this game, probably did the same.
After two quarters, the Lancers had a 13-nothing lead. But after a costly fumble at the end of the third, the momentum switched.
"You know we made them look a little better at times," said Jed Kennedy, Brookfield Central Head Coach.
And the rest is history.
"Missed extra point, missed field goals. You know it's tough. You get in this sport to help kids and the ultimate goal is to come down here and win a state championship. Our kids worked their rear-ends off. It didn't turn out the way we wanted," Kennedy said.
It's another tough loss for our region's team. But as Kennedy puts it...the 14-13 final stings a little more than others.
"It hurts I'd rather get beat by 60. You get beat by 60 you know you didn't;t have a chance. We had a chance," Kennedy said.
Brookfield Central's perfect ended Friday at Camp Randall, as did New Berlin Eisenhower early in the day.
It's been tough seeing these kids shed tears instead of rejoicing. But we're optimistic because we love a comeback story and both the Lions and Lancers will have the opportunity to come back next year and rewrite the outcome.

friday football frenzy, brookfield central, state, title, madison