Here's a list of Olympians to watch in NBC's primetime coverage on Wednesday, February 14 at 7 p.m. CT.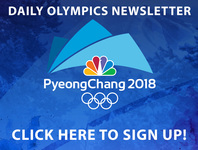 Alpine Skiing - Women's Slalom (Run 1)
Multi-medal threat Mikalea Shiffrin of the U.S. will compete in run 1 (of 2) of the women's giant slalom. The event will conclude live later in "Primetime Plus."
Alpine Skiing - Men's Downhill
On the men's side, the "Attacking Vikings" of Norway – led by three-time Olympic medalist Aksel Lund Svindal – are among those seeking to prevent Austria's Matthias Mayer from becoming the first repeat Olympic champion in the men's downhill.

Figure Skating - Pairs' Gold Medal Final
The pairs' short program concludes, where Team USA is represented by the husband-and-wife duo Chris Knierim and Alexa Scimeca Knierim.
Skeleton - Men's Competition
Latvia's Martins Dukurs and South Korea's Yun Sung-Bin begin their duel for men's Skeleton gold in run 1 (of 4), while 2014 Olympic bronze medalist Matt Antoine will likely lead the U.S
Speed Skating - Women's 1000m Gold Medal Final
Among the most anticipated speed skating events in PyeongChang is the women's 1000m, with reigning world champion Heather Bergsma of Team USA facing a deep international field.