Want to envision finished, Oak Creek IKEA store? Look to our south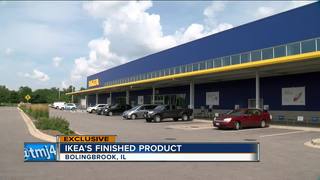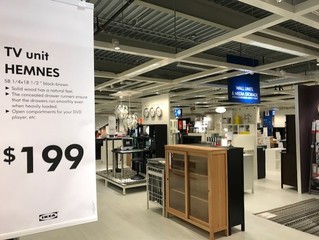 OAK CREEK -- Construction continues at the site of a future IKEA store in Oak Creek. The store will be IKEA's first in Wisconsin. It's scheduled to open in the summer of 2018.
IKEA currently has two locations in the Chicago area.
The store in Bolingbrook, Illinois – while laid out differently – is comparable in size to the planned facility in Oak Creek.
The Bolingbrook store is 317-thousand square feet. The Wisconsin store will be 291-thousand square feet.
Samantha Gravina, the store manager in Bolingbrook, said the store draws roughly 2.4-million customers a year.
"I would expect the same in Oak Creek," Gravina said. "The Bolingbrook market is similar to the Milwaukee market."
Inside the facility, layouts and displays help customers visualize pieces of furniture as part of a room. There are carefully assembled kitchens, living rooms and bedrooms to walk through.
"Our room settings are almost like a model home," Gravina said. "They give you a snapshot of what people are actually doing in their homes."
She said the various displays take one to two weeks to set up.
"We do change the store displays quite frequently based on the changes in trends that we see," Gravina added.
Arrows on the floor, as well as paper handouts containing a map of the store, help customers navigate through the huge Bolingbrook facility.
Gravina said the Bolingbrook store employs between 250 and 280 people year round.
It's also attracted development in the surrounding area. Gravina said that's not a phenomenon unique to Bolingbrook.
"We have noticed that, once an IKEA goes in, there are other stores and businesses that come around too," Gravina said.
Since the Bolingbrook store opened in 2005, coffee shops, restaurants, and a mall are among the businesses that have sprung up nearby.
"None of this was here before," said Robin Anderson, a frequent customer at the Bolingbrook store. "It brought jobs and it also brought more economic stability to the area."
Be sure and watch TODAY'S TMJ4 on Roku! We are the only station in Milwaukee to provide the latest news, weather and sports on the device. Search for us on Roku today!