Veterans honored for Purple Heart award at War Memorial Center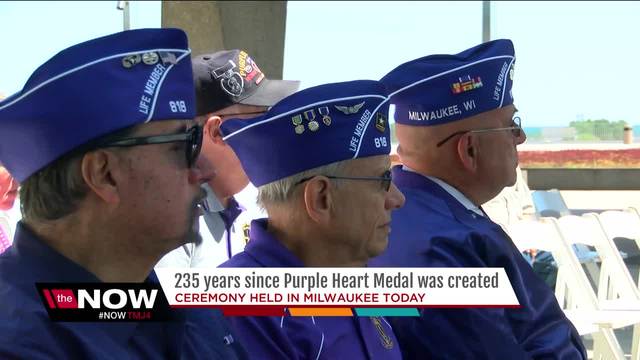 Monday marks the 235th Anniversary of the Purple Heart Award, and locally several Vietnam Veterans shared their stories of when they received their Purple Hearts and how it impacted them.
Many of its recipients were awarded the medal posthumously but those who survived carry the award with a heavy heart.
"It's a medal no one wants," said William Goralski, recipient of two Purple Hearts. "No one wants to get hurt. No one wants to get killed."
Veterans gathered at the War Memorial Center in downtown Milwaukee Monday to honor award recipients.

"There is no way of understanding what happens when you get hit," said Monte Lunde. "It's the scaredest I've ever been."
Lunde is honored by the award he received in 1968. He knows it represents his sacrifice in Vietnam, fighting in combat. However, he made it out alive; something not everyone with the award can say.
"I feel so lucky," Lunde said. "Whether it's here or anywhere, I'll be thinking about it as I drive down the road. I'm loving it. I'm here and able to do it. You are as tight with [your battalion] as your own family or maybe even more so. You never forget them."
Lunde's message was a common one at the War Memorial Center. George Banda had a friend from Milwaukee he met while in Country. They had made plans to buy a house next door to each other where they hoped to cook out and raise families together until the day they both earned their Purple Hearts. The only difference, George is here to talk about it.
"A bullet grazed the left side of my head and I was gushing blood," Banda said. "I lost a good friend, Ed Vesser from Milwaukee. I remember them every day but there are certain days I have them in my heart and mind. Purple Heart Day, Veterans Day, Memorial Day. Today means sacrifice. For me, sacrifice and loss. That's the way I remember it. Being awarded the Purple Heart, something terrible happened. Something very bad. You were either wounded or killed. That's what a purple heart stands for."
Banda received a number of medals for his service. But it's the one he remembers today that had the biggest impact on him.
"They are all wonderful and I'm fortunate to get those and be awarded those," Banda said. "But those [other] medals were given to me for doing what I was trained to do. They do mean something but the Purple Heart is the most important medal for me. It means sacrifice."
All of the men acknowledge the honor it is to have their own Purple Heart but they know they carry significance to the brothers they've lost. It's those men they wish to honor today.
"Purple Heart Day is every day for every veteran that has a Purple Heart," Goralski said. "I'm not kidding. It doesn't go away. I am going to carry it right to my grave. I let people know, it's not just me as a person who is still alive. I'm vertical. It's about the men and women who gave their life."
As a way to honor what they had to go through, Milwaukee County offers a Purple Heart Pass for those people who have received the award. It gives them access to a number of different activities in and around Milwaukee County for free. For those with a Purple Heart interested in signing up, you can find more information here.