Somali refugees in Milwaukee frustrated by travel ban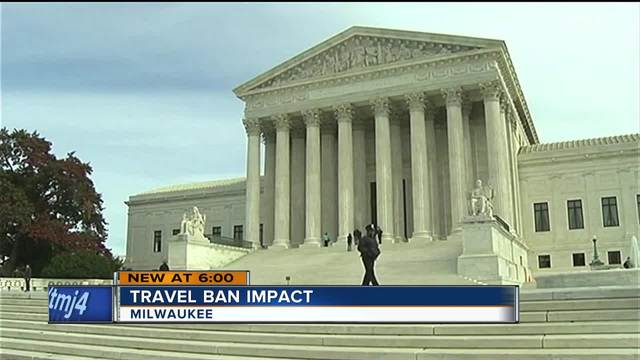 MILWAUKEE -- The Supreme Court upheld President Donald Trump's travel ban on Tuesday to keep nationals from Iran, North Korea, Syria, Libya, Yemen, Somalia and Venezuela from entering the country.
The president responded to the court's decision Tuesday afternoon.
"Today's Supreme Court ruling just coming out (is) a tremendous success (and) a tremendous victory for the American people," Trump said.
While the Trump administration is touting this as a major victory, Milwaukee's Somali population worries about those trying to leave the war-torn country.
Although this ruling doesn't change much for an estimated 1,400 Somali refugees in Wisconsin, it means their friends and families searching for a new life in America is put on hold.
Inside African Garden restaurant, Somalian refugees gathered for an afternoon meal, and an inevitable conversation about the Supreme Court's decision to uphold the travel ban on their native country.
"It makes me feel bad," Mohamed Musa said. "I don't like it at all."
Musa came to America with his family in 2001 to escape the aftermath of a civil war and the poverty that came with it.
"The country was not in a stable condition," he said.
While Musa made the most of an education in Milwaukee which led to an opportunity to be a Somali interpreter at local hospitals, he feels lucky compared to those back in Somalia.
"I have a lot of family who live in Somalia right now who want to come to America," he said.
Rizwan Ahman is a spokesman and activists for the Muslim community.
"Five of the 7 countries are predominately Muslims," Ahman said in reference to the travel ban. "I would say I was disappointed in the ruling."
Ahmad recently traveled to Washington to talk with state lawmakers about striking a balance of compassion and security.
"We have to make sure we are not turning our back on humanity and people who are fleeing a life or death situation," he said.
"There's a lot of good Somalis, hard working Somalians who do a lot of good things in Milwaukee," added Musa.