For all of us who couldn't make it to South Korea, a Wisconsin family created an Olympic Village of their own in Sheboygan.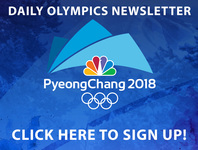 Sue and Ken Leibham have 13 kids, and 43 grandkids, and another on the way. That means their "team" is bigger than many Olympic teams competing in PyeongChang right now.
Their youngest son, Nate, built a version of the winter games in their backyard. Complete with a luge, hockey rink, snowboarding course, and curling area. A homemade Olympic flame sits on the chimney of the home, and the Olympic rings glow from the roof.
They come together to "compete" and have fun in their Olympic winter wonderland.
They do the same thing for the summer Olympics. Last year, they tried to recreate Rio De Janeiro, where the summer games took place.