Milwaukee County health officials are investigating a downtown restaurant and nightclub that allowed a goat onto its premises Friday night, but the owners say the incident has been overblown.
It happened at Dick's Pizza and Pleasure, a restaurant and nightclub on Milwaukee Street.
Promo photos for a party publicized a celebration for the "Birthday of Saed's Goat," along with a photo of a goat with a beer bottle in its mouth.
Fourth District Alderman Bob Bauman heard about the incident after it happened and asked Milwaukee Police to check it out on Saturday.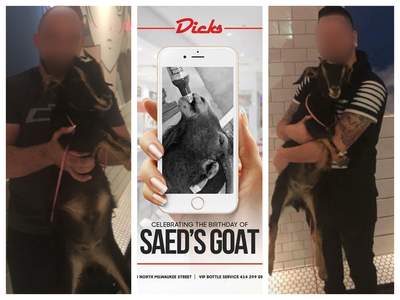 "They went in, they didn't see the goat personally, but the staff of the bar did confirm that there had been a goat there earlier, and it was also confirmed that there were Facebook photos of the goat in the bar doing things like drinking from a beer bottle, people handling the goat and petting the goat," Bauman said. "This raises concerns across a whole score of issues, from health department issues, sanitation issues, and frankly the abuse of the animal. What's a farm animal doing in a bar? The thing must have been scared out of its wits to be handled and prodded and pushed and to have beer bottles stuffed down its throat, I mean that's not a humane way to operate."
One of Dick's owners, Saleh Salem, said that's not what happened.
"They brought it in for somebody's birthday, it was a joke, they brought it at 7:00 before we opened, 7, 7:30, to take a picture with it," Salem said. "The goat was there 5 minutes. As soon as I came out my office I see the goat, I tell Moises [GM], 'get this goat out of here.' There was no goat inside this club while we were open, there was nothing."
A City of Milwaukee Health Department official confirmed that they followed up on the report and issued an order for a violation of the Wisconsin Food Code against Dick's.
An individual who snapped photos of the goat and asked to remain anonymous said she was disgusted by the incident.
"Taking a goat away from its farm just to have a photo op for entertainment is wrong. The goat was held by multiple people that could cause uneasiness and stress to an animal. It shows lack of control on their employees too when they're posting about 'how much Hennessy to feed the goat' and 'eating him afterwards," the witness said, referring to Facebook posts by people who responded to the party promotion.
"I saw that online. People are saying that, but that's not true," Salem said. "The goat was at the club at 7:30, it wasn't even at the club, it was on the first floor by the back door, never came in 2 feet by the back staircase, and it was there maybe 5 minutes. They were excited to take a few photos and they sent it back to its owner, and it's living happily on its farm where it came from where it belongs."
Salem said it was a domesticated goat with a collar and leash. He also says the promo photo of the goat with a beer in its mouth was created by promoters, not the bar.
But Bauman says they've had problems with Dick's in the past for disorder and commotion complaints, and this latest incident could affect its license.
"Any citizens that have concerns, both from a public health standpoint or an animal abuse standpoint can voice their concerns because this should not happen and should never happen in any other bar or nightclub in Milwaukee," Bauman said.
Salem said they plan to fight any orders from the Milwaukee Health Department.