Hunters prepare for Wisconsin's annual gun deer season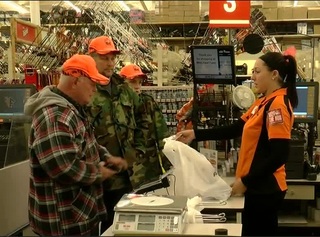 Wisconsin's nine-day gun deer hunt kicks off bright and early Saturday morning.
At Mills Fleet Farm in Germantown, hunters lined up outside of the door starting around 5:30 a.m. for the store's annual Orange Friday promotion.
Most came for the complimentary orange hats that were handed out. But some picked up last-minute supplies before heading out to the woods.
"This is kind of like the kickoff to the season, because right after this we head out and get ready to go hunt," said Dave Wagner.
Wagner hunts with his son Bryan every year. He said the two will wake up around 2 a.m. on Saturday morning to make sure they're in the woods by 4 a.m.
"Hunting's a big tradition here in Wisconsin. It has been for many years," Wagner said.
Some children are preparing to head out for a first-time hunt.
Anthony Rodeghier, from Jackson, stopped in to buy a jacket for his 8-year old son "Little Anthony."
The two are going hunting in Mayville on Saturday.
"It's going to be great to get him out there, you know? Get him out in the woods," Rodeghier said. "We'll see how long he lasts in the cold."
Ken Nowak, of Hartland, said he'll be hunting with his daughters Ava and Sophia.
Sophia shot a deer two years ago. But this weekend will be Ava's first time participating in the gun deer hunt.
"It's incredible being able to share with them something I've loved for so many years," said Ken, who's been hunting since he was 12-year old.
"I'm looking forward to hopefully shooting a deer," Ava said, "And also spending time with our Dad."