RIPON -- A Fond du Lac man is charged with making terroristic threats against the city of Ripon officials.
Prosecutors say David Zeatlow made threats, after learning Governor Scott Walker's office could not prevent his home from being torn down.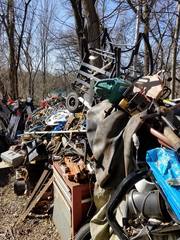 The criminal complaint says, 'David Zeatlow had talked about shooting local officials over this matter and threatened to shoot the mayor and other city staff.'
The threat gained the attention of Capitol Police, put Ripon City Hall on lockdown last Monday, and sent patrols around official's homes.
"It's pretty concerning," said Mayor Gary Will, "Thank God that with today's day in age an everything going on they were on the ball."
The mayor says the dispute began at least five years ago over the property's city code violations. Mayor Will showed us photos he took himself, of clutter on the lawn.
"I'm going to guess this is probably an average of 7 feet high, the first time we saw it." He adds the home was falling apart saying, "Nobody should live in those conditions."
The mayor says he personally helped the last family member left in the home move out in April. He says nothing worked to get the property up to code, "and all we want is compliance, we never wanna tear somebody's house down."
The home was demolished on Thursday.
Mayor Will says Zeatlow is out on a $500 bond. He says items were salvaged from the home before it was demolished. The defendant has six months to work with the city on those code violations to get those items back.