Dash cam video shows wild pursuit of 5 boys in stolen SUV
The SUV crashed near Marquette University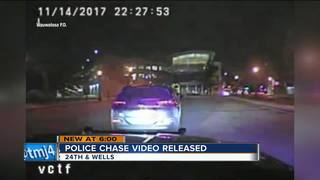 Wauwatosa police release video of a high-speed chase involving five Milwaukee boys inside a stolen SUV that ended in a serious crash near Marquette University last week.
The chase all started when Wauwatosa officers tried to stop a stolen jeep tied to an armed carjacking. It took two crashes and a 10 minute pursuit to get the boys in custody.
Last Tuesday night, a joy ride in the stolen jeep turned into an insane high-speed chase.
"Sixty-eight miles per hour, no traffic," said the officer in pursuit.
It put innocent bystanders and officers trying to catch them in great danger.
Wauwatosa police first spotted the SUV near Hi-Mount Boulevard and Lloyd Street. The 16-year-old driver swerved through neighborhoods, alleys, and downtown Milwaukee at high speeds.
The officer behind the wheel is a part of a new task force made up of several law enforcement agencies dedicated to catching criminals behind violent car-thefts, robberies and burglaries.
The jeep passed the Milwaukee County Courthouse, and moments later the driver crashed into a truck and was pinned from behind by the squad car.
The driver broke free only to have more patrols after him. The pursuit came to an end with a fiery crash at 24th and Wells Streets.
"Looked like an inside-out soda can," said Eddie Walls who lives in the neighborhood.
The fleeing vehicle flipped upside down. Walls came outside to see the shocking aftermath.
"Just stop doing that, just be safe, and be at home at that time of night," he said.
All five minors walked away and were arrested. Two others along their path received minor injuries.
The 16-year-old driver has been charged with recklessly endangering safety in juvenile court. Wauwatosa police say he may be charged as an adult for eluding officers. The district attorney has yet to make a decision on charges for the others involved.