1 dead after van rear-ends Kenosha school bus
Two students injured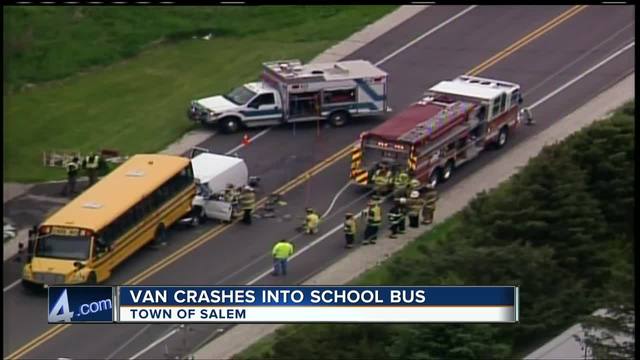 VILLAGE OF SALEM LAKES - A bus ride to school turned deadly just after 7 a.m. Friday in the Village of Salem Lakes near Kenosha after a van suddenly crashed into the back end of the bus.
According to the Kenosha County Sheriff's Department, the school bus was stopped in the 24500 block of Wilmot Road on its way to Westosha Central High School when it was rear-ended by a van. The van's driver died at the scene.
"The front of the van went underneath the back of the bus," said Sheriff David Beth.
"When it did this, the bumper also traveled through what would be the windshield area... The driver was killed in this accident," he continued.
Although the Kenosha County Medical Examiner's Office has not identified the driver of the van, Beth confirmed the driver was a 21-year-old man from Antioch, Illinois. The van he was driving was a work vehicle for a tile and flooring company in Kenosha.
"Whether it was a medical condition or he was distracted, [there are] no apparent skid marks," Beth said.
"From initially, what I've been told, I'm going to assume something was going on that he didn't notice a school bus in from of him," he continued.
Three students were taken to an area hospital for minor injuries, 16-year-old Don Taft was one of them.
"I was in the hospital and I was sitting there picking shards of glass out of my hair," Taft said.
"I'm pretty sure there's still some in my hair right now," he continued.
Highway C was closed between Highway 83 and 258th Avenue both East and Westbound for the majority of the morning, and several crews responded to the scene.
Sixteen-year-old Dayton Brannon who was also a passenger on the bus said he'll never forget what he experienced, and the crash was more traumatizing than what some people may think.
"I just want there to be recognition of how serious the situation was," Brannon said.
"I witnessed a guy die, it's tough," he continued.
Be sure and watch TODAY'S TMJ4 on Roku! We are the only station in Milwaukee to provide the latest news, weather and sports on the device. Search for us on Roku today!