Years before the first champions were crowned in these Olympic Games, an athlete from Wisconsin was one of the first to medal in Pyeongchang.
The South Korean city played host to the Special Olympics World Winter Games in 2013, and launched the snowboarder from central Wisconsin on a path to stardom.
Daina Shilts of Nielsville trains at Granite Peak at Rib Mountain State Park in Wausau.
"My favorite part about snowboarding is I'm free. Free from my disability. Free from people judging me, telling me I can't do it," Shilts said on a ride up the ski lift.
Daina was born with a rare genetic condition that prevents normal development in some parts of her body. That used to hold her back, and she was bullied in middle and high school. Shilts, however, found snowboarding, and Special Olympics, and it changed her life.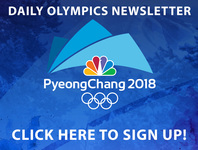 "At first I was really shy, and I don't know, didn't like to talk about my disability," Shilts said. "I tried to hide it. It really turned around for me in Korea."
As a teenager, Shilts took home two silvers and a gold medal from the Special Olympics World Winter Games in Pyeongchang. She also took home a new confidence in her abilities, and a new friend in pro snowboarder and Olympic Champion, Hannah Teter.
"She's an amazing friend," Shilts said of Teter, whose specialty is the halfpipe.
Teter won Olympic gold for Team USA in 2006, and silver in 2010. Since then, she and Shilts have teamed up in Unified racing events, including three times at ESPN's X-Games.
The ongoing friendship is so important to Daina.
"To know that there are people out there that treat me like an equal and they don't see me for my disability. They see me for my ability. To have someone that's so famous and a pro snowboarder be so nice to me is an unbelievable feeling. I love it, and I love her," she said.
Daina won three gold medals at the Special Olympics World Winter Games in Austria in 2017, the start of a big year for her. She was tapped to appear in a national advertising campaign for Finish Line Sporting Goods, and received an ESPY award, appearing with former First Lady Michelle Obama.
While Daina stands out in her sport, perhaps the greatest reward is that her abilities allow her to also blend in, and to be treated just like anyone else.