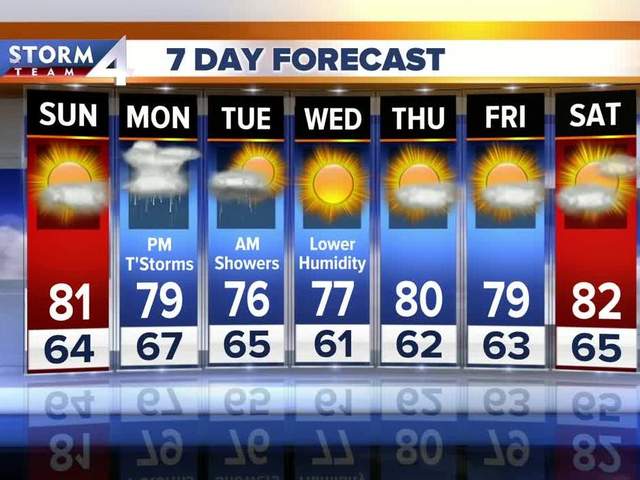 A foggy morning for most and while the visibility will improve, the humidity will not: expect a muggy weekend. Those who are waterlogged from Friday's rain will see a nice break with mostly sunny skies through most of the weekend with a few clouds developing by the afternoon. High temperatures will be close to 80 degrees today and 82 on Sunday as the wind changes from the northeast to the southeast. Expect a bit of a haze from the wildfire smoke, especially on Sunday.
The clouds will roll back in on Monday with an area of low pressure to bring another chance for showers and storms, especially in the afternoon and evening hours. Rain showers will taper off on Tuesday afternoon, leaving the heaviest rain mainly south of I-94 where a half an inch to an inch of rain is possible. This cold front will finally take the mugginess out of the air by Tuesday night and Wednesday will be quite comfortable with dew points in the 50s, high temps in the mid-70s and mostly sunny skies.
Thursday will be warmer and the dew points will start to climb again, though not to excessive levels under mostly sunny skies. Friday will see more sun than clouds as well with seasonal highs near 80 degrees.