Cast, crew wrap filming for Packers movie
On the set of "The 60 Yard Line"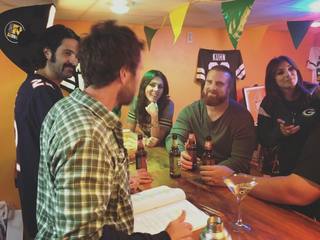 GREEN BAY-- Packers fans know nothing gets between them and their team. That's the premise of a new movie being filmed just steps from Lambeau Field.
It's called "The 60 Yard Line" and it's based on a true story about a man who bought a house near the stadium. "He loses favor with his fiancé. She leaves him, he loses his job, and his lifestyle becomes his career in a lot of ways," said director Leif Gantvoort.
Gantvoort has been a football fan his entire life, so this script peaked his interest. "This script in particular is about the fans of football. It's not about the teams. It's not about playing the sport. It's about the fans, life in following a team, and the good and bad that follows that."
Ryan Churchill is one of the lead actors. He wrote the script. "I originally finished the script around 2007, and then it has taken a whirlwind of changes since then," he said.
Churchill lives in Los Angeles now, but he's from Beloit and grew up a Packers fan. He plays "Zagger", who buys the house before consulting his fiancé.
"It's so interesting because reading on paper you think she should just leave him, but if you watch Churchy, who's playing Zagger, he's so lovable," said Jacqueline Zook who plays Zagger's younger sister "Debbie". "You totally get why she's like, Okay, I'll stay and try again."
The cast and crew is on a tight filming schedule. In between takes the crew works fast to make sure the lighting and camera placements are just right.
Churchill said the actors rehearse if there's time. "Being the writer helps because you already have it in your mind a little bit, but yeah, we do try to rehearse but there is not always time."
Gantvoort said the biggest road block in making a film is money. "If you had unlimited funds you would have more time, resources, people. We have none of those things. The only thing we have is the good favor of the Green Bay community coming forward and helping us and supporting us," he said.
The crew expects to finish filming November 3. You can donate to the film's Go Fund Me page here: https://www.gofundme.com/thesixtyyardline