A Heart Healthy Beef Chili Recipe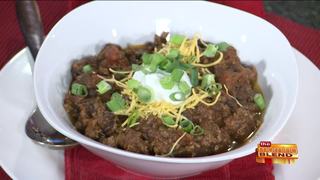 Heart disease takes the lives of nearly 1 in 3 women– more than all cancers combined. Fortunately, we can change that number because nearly 80 percent of cardiac and stroke events can be prevented with education and action. Lifestyle changes like managing stress, exercising and eating a healthy diet are imperative for heart disease prevention. So begin making those changes, starting with this heart healthy beef chili recipe for the Big Game on Sunday. Yes, lean beef is heart healthy! Joining us to share the recipe and important information on heart disease is Sarah Agena, Registered Dietician and American Heart Association volunteer.
National Wear Red Day, Friday February 2, is observed to bring national attention to the fact that heart disease is the #1 of women and to raise awareness of women's heart health. Post photos of yourself wearing red on Facebook, Twitter & Instagram (@AHAWisconsin), and use the hashtag #GoRedMKE. For more information, visit Heart.org.