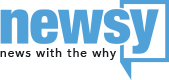 tmj4.com
National News Partner
Walmart Will Stop Selling Guns And Ammunition To People Under 21
Walmart is restricting the sale of firearms and ammunition to anyone 21 years old and over, according to the Associated Press.
Walmart stopped selling high-powered semi-automatic rifles with high-capacity magazine capabilities in 2015. The major retail store still offers ammunition and other firearms.
Dick's Sporting Goods recently announced it would stop selling semi-automatic rifles and high-capacity magazines. The sporting goods store also raised the age to buy a gun at its locations to 21.
---
Trending stories at Newsy.com