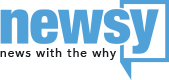 tmj4.com
National News Partner
Rick Gates Expected To Plead Guilty In Plea Agreement
Former Trump campaign adviser Rick Gates will reportedly plead guilty in a plea deal with special counsel Robert Mueller's office, according to The New York Times and ABC.
Here's why that plea agreement is so important: Gates was President Donald Trump's campaign deputy alongside Paul Manafort, a longtime business partner and Trump campaign manager. And Gates stayed on to work for Trump through Election Day, even after Trump fired Manafort in August 2016. That means Gates has been by Trump's side through a lot of major campaign moments and could mean he has more information to share with Mueller's team.
The deal also comes a day after Mueller levied additional charges against Gates and Manafort.
Additional reporting from Newsy affiliate CNN.
---
Trending stories at Newsy.com