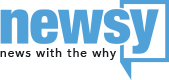 tmj4.com
National News Partner
Immigration Agency Takes 'Nation Of Immigrants' From Mission Statement
The U.S. is no longer a "nation of immigrants" — at least according to the federal agency in charge of granting citizenship.
U.S. Citizenship and Immigration Services took that language out of its mission statement. The agency reportedly shared a new statement with employees Thursday.
The statement originally read, "USCIS secures America's promise as a nation of immigrants." Now, it emphasizes USCIS "administers the nation's lawful immigration system."
An agency official told CNN the new language reflects USCIS' guiding principles and — again, borrowing from the new mission statement — focuses on "protecting American workers and safeguarding the homeland."
Additional reporting from Newsy affiliate CNN.
---
Trending stories at Newsy.com