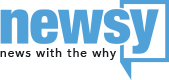 tmj4.com
National News Partner
Another Version Of The Flu Vaccine Might Return Next Season
After taking a hiatus for the past two flu seasons, the nasal vaccine FluMist might be coming back.
A Centers for Disease Control and Prevention advisory panel voted to recommend the nasal spray version for the upcoming 2018-19 flu season. The CDC is expected to take the committee's advice.
FluMist is a live, but weakened, influenza vaccine for healthy patients from ages 2 through 49 who aren't pregnant. It wasn't recommended for the 2016-17 flu season because at the time, it wasn't as effective as a regular shot. But data this time around was enough to convince the panel it's a viable option. It'll be available in the U.S. after the Food and Drug Administration approves the strain.
The CDC estimates this year's flu shot is 36 percent effective against both A and B virus strains, but experts still advise people to get the vaccine.
Additional reporting from Newsy affiliate CNN.
---
Trending stories at Newsy.com