Whitefish Bay Jewish Community Center evacuated in response to email threat
Email threat received Sunday morning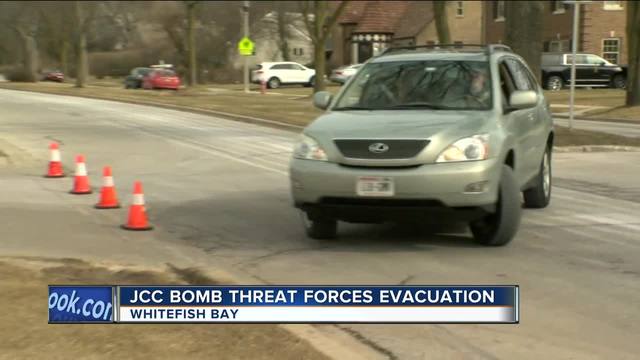 The Jewish Community Center in Whitefish Bay was forced to close yet again Sunday after a bomb threat was sent via email.
It's the second time in five days the facility has been forced to evacuate due to a threat.
Ellen Bravo was inside the building when the threat was announced. She and other patrons of the center were asked to grab their belongings and leave. Bravo said she fears this kind of threat has now become normalized.
"This time it came over the PA system and the voice said, we're received an email, we don't believe it's credible, but we're going to use caution," Bravo said.
"You hear people telling their kids on the way out, 'yeah this is the thing that we were talking about, that's why we have to leave the building.'"
Bravo said it's patrons are preparing for the inevitable these days. She says people in her water aerobics class have been bringing a small bag to the pool in case they have to run out the door."
According to Whitefish Bay Police, officers from multiple departments responded to the bomb threat just before 10am. The JCC confirmed the threat via its web site and open its doors back up at noon.
"People playing basketball had to scurry and get their kids out, and then there's the how do you explain this," Bravo said. "How do you tell your family [when] we go to the gym we'll have to wonder is this the day," she asked.
Police also confirm the threats are under federal investigation.
Be sure and try our new SNOWCAST APP! It is the "snow equivalent to STORM SHIELD" - a great new product that gives you high resolution snow forecasts for any part of the nation! It has just been introduced for iPhones, but we are working on the Android version! Just search SNOWCAST in the App Store or click here.