TaTiana's Road Trips: Random Lake
Random Lake is a small town with a large history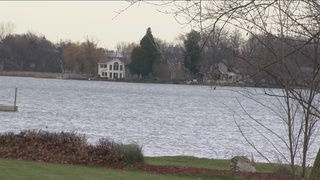 RANDOM LAKE -- For you history buffs out there, Random Lake, Wisconsin is a small town with a large history.
Residents say come down and enjoy the farm fresh foods at Kathy's Trackside Cafe, where you can stuff your more than just your face.
Marilyn Borchardt volunteers in the cafe and says she loves that it's connected to the Random Lake Historical Society Museum. The main reason, all the proceeds from the eatery pay for the museum's bills.
So after a bite to eat, go check it out. Marilyn says if you haven't been yet, what are you waiting for? People as far south as Illinois have been coming through for a visit.
"Actually we have people coming from all over the county," she said. "They are finding out about us."
The Walash family came from Michigan to visit the grandparents for the holidays. The youngest son, Samuel says he loves the whole thing.
"Well there's a museum here and it's really good food," he says. "My dad says he loves the omelets and stuff, and the hot chocolate is really good.
The cafe also has local historical importance aside from being attached to the historical museum. The name Kathy's Trackside Cafe isn't an accident says Random Lake Historical Society President Marjie Thiel.
"The railroad track is right behind this building," she says. "If it hadn't come through Random Lake... Random Lake would have been nothing."
The museum is packed full of highlights of Random Lake's economic growth through pictures, artifacts, and displays from businesses past and present.
Also, to keep younger museum visitors interested, there's an interactive sections just for kids.
Abbie Scholler says the train set, doll house and crates full of toys are fun. There are also hats and clothing to dress in specific time periods.
"If you just wanna get a little bit for free time from your kids, you can put them in the kid's section," suggests Abbie.
The museum attributes most of Random Lake's early success to the railroad and massive ice harvesting industry during the late 1880s. Residents say the ice house display is one of their favorite examples of why the lake is so great.
Then after learning about Random Lake, go for a visit. Local Tour Guide and Avid Fisherman Mike Scholler grew up in Random Lake and has expert knowledge of it.
"Somebody's gonna say I'd be giving up my secret fishing spot," laughs Mike.
Scholler says the 210 acres of lake with the half mile of shoreline allows space for swimmers, fishermen, and beach goers. You can find Bluegill, Perch and Muskies in Random Lake. He adds you can fish in this lake year round.