New surfing class offered for Shorewood High School students
Cold, rainy weather did not stop this class.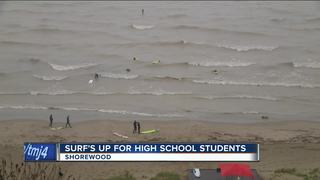 "Surf's up" on Lake Michigan for a group of a Shorewood High School students. Despite any inclement weather, the group meets for class Sunday mornings at Atwater Beach to catch some waves.
Shorewood High School has partnered with Lake Effect Surf Shop to introduce students to the sport of surfing.
The schools says the curricular addition is a new unit offered through Watershed Wisdom, an interdisciplinary, experiential course that teaches students about their local watershed.
"We wanted to add a local, freshwater-based adventure and I thought surfing would be a good fit," says Eric Gietzen, who is a high school teacher and also chairman of Surfrider Foundation - Milwaukee.
The class, now in its nineteenth year, has always required students to experience outdoor adventure, but surfing is a new twist.
Be sure and watch TODAY'S TMJ4 on Roku! We are the only station in Milwaukee to provide the latest news, weather and sports on the device. Search for us on Roku today!